​Storm see off the Americans in friendly
​Hemel Storm dominated their first game back after the summer break as they overcame USA Select 123-73 in an exhibition friendly last weekend.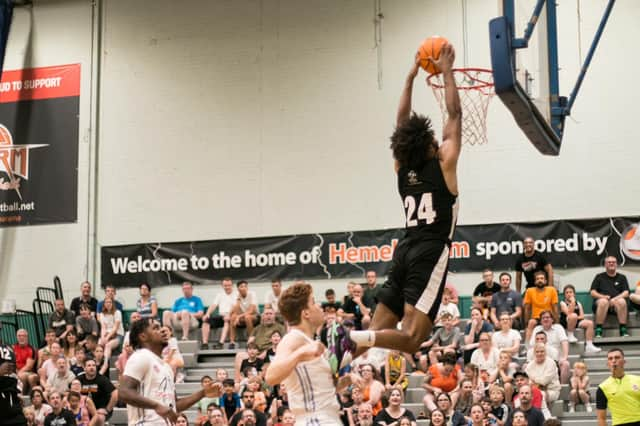 Looking to replicate the achievements which they did last season, it was total domination as Storm raced away to a comfortable win.
They came into the game with two players unavailable: new signing Ade Atiba absent and Tez Allen, who was recovering from an injury. New head coach Mark Clark was unavailable as was assistant Michael Darlow, which left assistant coach Tom Frederick and director of basketball Jon Burnell on the bench.
It was a fantastic team performance with high intensity, especially towards the end of the game, where the physicality and athleticism of Storm proved to be too much for USA Select. Although the opening stages were tight, some unselfish plays managed to find an open player outside the three point line, alongside the aerial presence of Hakeem Sylla and Brayden Inger.
The Storm fans were treated to an array of entertainment, with highlight plays specially coming from Matt Disu, who scored a 'poster' dunk and a spectacular windmill dunk in the closing stages of the game.
Veron Eze also showcased his talent and athleticism, dunking home the ball and fighting for put back attempts at the offensive end.
It was not only the new signings who showed their ability. Seth Swalve had an outstanding game against the team he represented two years ago, using his pace to get past defenders and finish well at the rim.
Storm shot with a high percentage, and were well disciplined when they did not have the basketball. This saw New Zealander Brayden Inger have a huge impact on the game, registering many blocks to his name. Towards the end of the game was Storm's best period. The full court press was executed to perfection, drawing USA Select into making errors, leading to easy finishes and dunks in transition.
Overall, it was a good start and a promising performance for a Storm side who are looking to win back-to-back league titles.
Storm begin their defence of the KitKing Trophy on Sunday with a home game against Essex Rebels. Tip off 6pm.
Top scorers: Hakeem Sylla 25 points, Brayden Inger 19, Seth Swalve 15, Veron Eze 15.