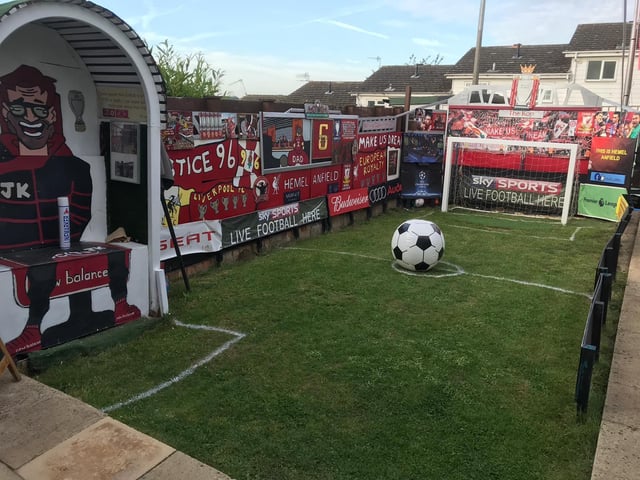 Liverpool fan transforms his Hemel Hempstead garden into a mini Anfield
Liverpool fan transforms his Hemel Hempstead garden into a mini Anfield
A Liverpool fan from Hemel Hempstead has created a mini Anfield in his garden.
Thursday, 30th July 2020, 12:34 pm
Updated
Thursday, 30th July 2020, 12:38 pm
Jack Stickings, and his sons Mason, eight and Bobby, three, are season tickets at Anfield and have been enjoying the success of the last couple of seasons - winning the Champions League and the Premier League. Jack, who lives in Hemel Hempstead, has transformed his garden, using recycled material and things he has made. He said: "We have a small garden here, but I put a goal up and then over time I have added more to it and it has got bigger and crazier. Most of the things are recycled wood, I like painting so most of the things are handmade. Last year, I got a call before the Champions League final from Whisper Films who were creating something to be aired on the night of the final. It was Klopp vs Poch, and they came to the house and filmed some bits for the show and that was great. My eldest son really enjoyed that, it was a great experience for us. From there I just added more to it, I got into Hama Beads and I have made portraits from them, it is difficult but they do look good. There are some Liverpool portraits of them as well, I just keeping adding little bits to the garden. When the Premier League restarted Whisper Films got in touch again about filming us and they came last week, that was a great experience as well." Jack has now created a Facebook Page - Hemel Anfield - he hopes that the page which will reach Liverpool and Jurgen Klopp. He said: "I created a Facebook page, Hemel Anfield, which has pictures of the garden. The dream is to get Klopp to come and see it or even just a video message would be amazing. We love the garden, and I know not everyone will, we have had a bit of stick from other fans but overall the support has been great and lots of people love seeing it."