​Storm edge to cup success over Essex Rebels
​Hemel Storm got their KitKing Trophy defence off to a winning start with a 102-91 success over Essex Rebels.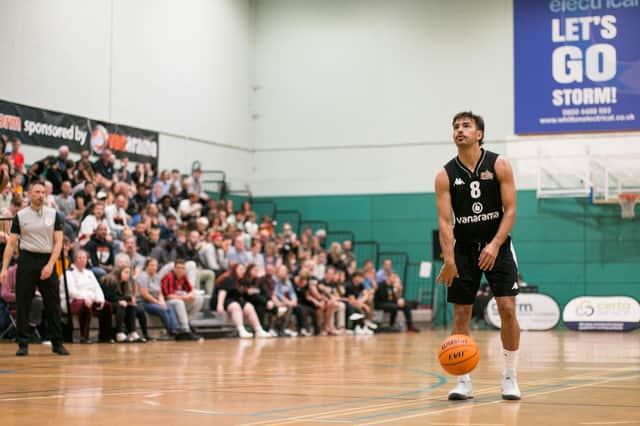 ​As expected, the first quarter was incredibly close, with both teams within touching distance of each other - Storm beginning to take control which forced an early timeout.
However, it was an impressive response from the Rebels, who swiftly managed to cut the deficit to a one possession game. In particular, it was Guard Luke Busumbru who used his pace and agility to drive in for layups, which lifted Essex into a small lead. Despite Storm's attempts to get back into the game, it was the Rebels who were the happier of the two teams by the end of Quarter One, winning 24-27.
Storm showed no sign of allowing the Essex Rebels to control the game, Hakeem Sylla registering a block and many points, alongside New-Zealander Brayden Inger who tantalised the Storm faithful with his exceptional array of finishing. Although Storm were starting to apply more pressure, Essex refused to back down from the challenge, replying with baskets of their own. It was half time with Storm in the lead, winning 58-51.
The third quarter began with Storm starting to pull away again, using the intelligence of Seth Swalve and Sam Newman, who both had outstanding games and shot with high accuracy. Storm started to pull away to their game high of a 20 point lead.
Turnovers definitely contributed to the Rebels downfall, especially after a Veron Eze dunk in transition fired up the electric crowd. The teams into the final quarter with the scoreboard reading 84-67 in Storm's favour.
Persistence from the visitors brought the deficit to within ten points in the fourth, but time eventually expired which meant that Storm took the victory.
Overall, it was a good display shown by Storm and a positive start for new head coach Mark Clark.
This weekend's double header sees Storm at home to London Elite on Saturday and away to local rivals Thames Valley Cavaliers on Sunday.
Vanarama Player of the Game: Seth Swalve - 29 points, four rebounds, three assists. Top scorers: Seth Swalve 29, Sam Newman 23, Hakeem Sylla 21.​​​​​​​​​​​​​​​​​​​​​​​​​​​​​​​​​​​​​​​​​​​​​​​​​​​​​​​​​​​​​​​​​​​​​​​​​​​​​