Club of the Month Berkhamsted go ten clear after another win
Berkhamsted moved ten points clear at the top of the table with 2-1 win at Biggleswade Town on Tuesday night.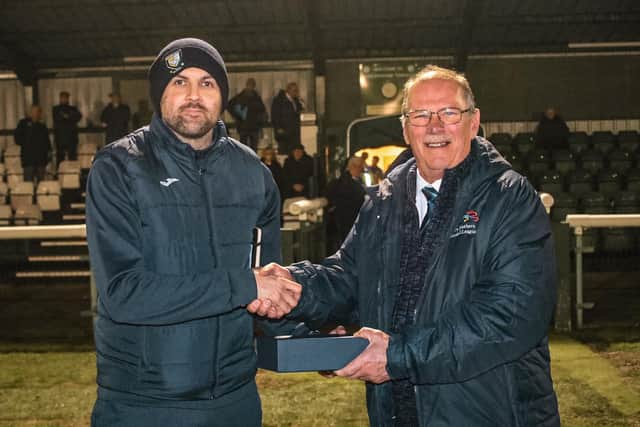 Before the game they were presented with a PST award for Division One Central team of the month by a league officer. They have now won it three times this season, for August, October and for January.
Berko nearly got off to flier with a 25 yard lob from Jonathan Lacey being just held by the backpedalling keeper Tim Smith.
Ryan Blake then went down near the 18 yard line and the home side were not best pleased when the referee awarded a penalty to the Comrades. Lacey tucked the spot kick into the corner of the net for a fifth minute lead.
There might have been another penalty when Ross Oulton went down but play was waved on.
Adam Watkins went close for Berko, shooting just wide of the target. Then the home side nearly scored when a free-kick was headed out to Sam Tinubu who let fly from 25 yards but it also went just past the post.
Tobi Coker had a couple of shots in quick succession charged down while at the other end Carey Bloedorn saved a low shot. Jack Tompkins did well down the right for Berko but the move ended with Watkins firing over and Berko were good value for their half time lead.
In the second half, the frost made the ground slippy and hesitation between the keeper and defence allowed Jon Clements to nip in and place the ball in the net in the 59th minute.
However, Biggleswade were only level for two minutes as Brad Wadkins hit what proved to be the winning goal. He was fed the ball on the left wing and cut in to bend a shot just inside the far post giving Smith no chance from the edge of the area and starting wild celebrations.
Tompkins was fouled in the penalty box but the assistant referee was well placed to see it, and did not intervene, so the referee waved play on.
Ryan Kinnane came up and headed a Lacey corner past the post before the visitors sent on three substitutes and were comfortably able to do the game management to run down the clock and claim the three points.
The win left Berko ten points clear of the other Biggleswade side who have played two more games and lie second. Third-placed Ware do have a game in hand on Berko but are now 17 points behind the leaders.
There are just 15 league games to go and Berkhamsted will be looking to keep their run going when they travel on Saturday afternoon to Barton Rovers, who are propping up the table.
Team: Bloedorn, Tompkins, Silford (Chamberlain), Oulton, Kinnae, Walster, Lacey, Watkins, Blake, Coker (Goss), Wadkins (Bangura). Subs not used Grant, Toomey.