Hundreds raised at Virtual Spring Quiz will help DENS support people in need across Dacorum
The charity's first ever Virtual Spring Quiz was a success
Wednesday, 3rd March 2021, 8:46 am
Over 70 households took part in a memorable evening of online entertainment to raise over £1,400 in the first ever DENS Virtual Spring Quiz.
On Friday, February 26, 76 households signed up for the inaugural event, joining quizmaster and loyal DENS volunteer, Peter Williams, for 10 themed rounds of brain teasing questions.
Participants were also able to bid for three luxury Lots in a fast-paced and fun virtual auction, raising £225.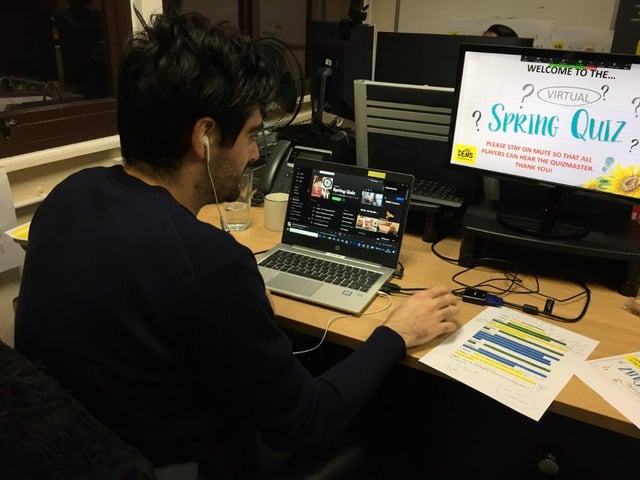 The charity's first ever Virtual Spring Quiz was a success
Thanks to the overwhelming generosity of everyone who took part in the quiz, DENS raised £1,453 - which could pay for essential equipment to assist with the distribution of emergency food parcels to individuals and families in need across Dacorum
Two households were crowned as joint winners of the quiz, with Sarah Morris from Apsley and Cathy Davison of team 'Isolating Hamsters' sharing the spoils.
The 'CoxBevTurns', a family team playing online from Ireland and the other half in Hemel, came out on top as the winning cross-household team.
Winning participant, Sarah Morris said: "It was great - really well organised and I would definitely join in again.
"We're usually rubbish at quizzes, but the questions were well balanced and thought out for all the family to enjoy!
"The auction was a fabulous idea too. Well done to the DENS team."
Nicky Maxwell-Braithwaite, community and events fundraising manager at DENS, said: "We are delighted with the success of our first virtual quiz. It's another great example of how we have adapted our fundraising during lockdown.
"It was wonderful to see the usual faces who attend our live event, as well of lots of new supporters, and we look forward to the challenges this year may bring."
DENS wants to thank everyone who took part in their first Virtual Spring Quiz.
The charity aims to be the first port of call for people in Dacorum who are facing homelessness, poverty and social exclusion; to support and empower them to take the next positive step in their lives. For more about DENS click here.