Pet support charity announced as second winner of Hemel's business' new community project
Local projects can win money from the Hemel company
Watch more of our videos on Shots! 
and live on Freeview channel 276
Visit Shots! now
A pet support charity helping owners during the cost of living crisis was named as the latest winner of a Hemel Hempstead business' community funding project.
Hemel Hempstead business campus, Breakspear Park, named Pets in Need Herts as the latest winner of its community initiative.
Pets in Need, is a not-for-profit venture, which runs a animal food bank that supports low-income households looking after animals.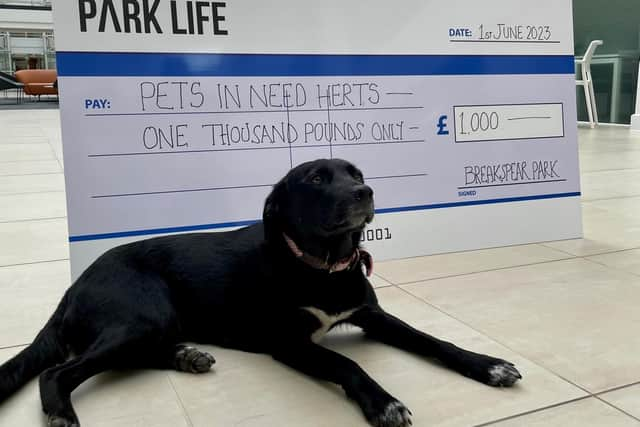 It is the second winner of the Community Fund campaign launched by the business site.
Breakspear Park wants to assist Hertfordshire-based charities, not-for-profit groups and services, amid the current cost-of-living crisis.
Both members of the public and employees at the business park nominate charities for a £1,000 grant, and then vote on the shortlisted organisations to pick an overall winner.
Watford Mencap, Hemel Hempstead Community Fridge, and Pets In Need Herts were the three finalists.
In total, 353 votes were received for the project.
Last week, Pen Mehmet and Snuggles the dog, a volunteer at Pets in Needs Herts, were presented with a cheque for £1,000 by the marketing manager at Breakspear Park, Dina Mistry, to assist the charity's work in providing food for pet owners struggling with financial hardship across Hertfordshire.
On winning, Pen said: "We would like to express our heartfelt gratitude to Breakspear Park for their incredible donation and all the supporters who voted for us. This generous contribution has left us absolutely thrilled and deeply grateful.
"Our dedication to animals is unwavering, and we firmly believe that no animal should suffer due to their owners' financial circumstances, which are often beyond their control.
"From individuals facing domestic violence, foster caregivers tending to pets while owners are hospitalised, homeless individuals, and people with disabilities, to those in rescue shelters, or those impacted by financial hardships, we strive to ensure that all pets receive the nourishment they need. This donation will allow us to continue to provide food and resources for countless individuals in need across the county. Once again, thank you all immensely for your support."
Breakspear Park is now asking for nominees for the next £1,000 donation.
Anything will be considered as long as it is not-for-profit and benefits the people of Hertfordshire.
From the nominees three finalists will be selected by the Breakspear Park management team. Their details will be shared on the Breakspear Park Facebook page.
Nominations can be sent via email and should include the type of project, charity, group or service, what the £1,000 will be used for, and contact details for the organisation.
Write 'unknown' if you don't know what the money will be used for. The closing date for nominations is 30 July with the funds being awarded in September.
Dina said: "We are delighted to announce Pets in Need Herts as the second recipient of our Breakspear Park community fund.
"As a company, we firmly believe in our duty to contribute and uplift the community in which we reside and operate. There is a real struggle for pet owners right now to feed those extra mouths in the family, so it is an honour to extend our support to the commendable efforts of Pets in Need Herts."