Volunteers' Week 2023: Community Action Dacorum to celebrate and inspire
"Volunteers' Week serves as a reminder that everyone has the power to make a difference"
Watch more of our videos on Shots! 
and live on Freeview channel 276
Visit Shots! now
Community Action Dacorum proudly joins thousands of charities and voluntary organisations across the UK in commemorating Volunteers' Week 2023, which will take place from June 1st to June 7th.
This year, as we celebrate the 39th year of this remarkable event, we embrace the theme of 'Celebrate and Inspire,' aiming to inspire individuals to become agents of change and engage in volunteering opportunities that resonate with them.
Simon Aulton, CEO of CAD, emphasized the significance of volunteers, stating, "Volunteers are the lifeblood of organisations like ours. Their selflessness, dedication, and unwavering commitment embody the spirit of compassion and unity that drives positive change. During Volunteers' Week, we express our deepest gratitude to our incredible volunteers who bring our mission to life, making a lasting impact in the lives of those we serve."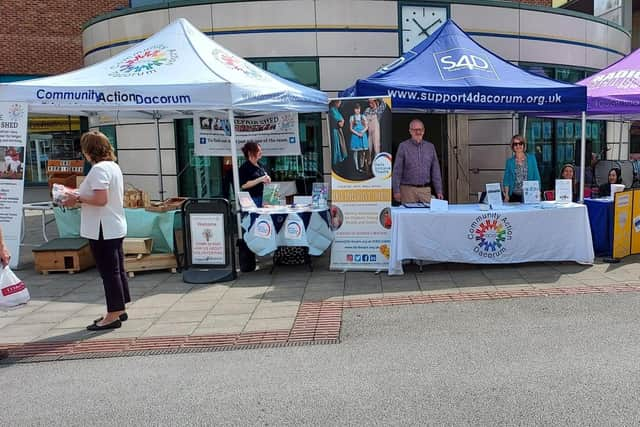 To mark this special occasion and to highlight all of the great things that our volunteers do, we have some extra special celebrations lined up for the whole week. We will be involving all of our volunteer projects as a way to say thank you from us and from all of the people who have been helped over the last year. MORE DETAILS TO FOLLOW!
Volunteers' Week serves as a reminder that everyone has the power to make a difference. CAD encourages everyone to embrace the spirit of volunteering and contribute to positive change in our community, no matter how big or small.
Community Action Dacorum:
Empowering Communities for Employability and Well-being
CAD is a dedicated charity focused on empowering communities to enhance their employability and well-being. As a council for voluntary service, we bring people together to achieve more and improve the quality of life in our local area.
We support the early stages of development for voluntary organizations and community groups, providing funding advice and representation to help them grow and flourish. We offer a range of services and projects that directly support individuals, businesses, and community groups, fostering employability and well-being.
Operating within the third sector, we collaborate with like-minded organizations to maximize our impact and create a stronger, more resilient community. Join us on our mission to build a vibrant future where everyone has the opportunity to thrive and contribute to the greater good.