Bucks saxophonist who cut his teeth gigging in the pubs of Hemel on the musicians who made the biggest impact on his life and career
You'd think having the legendary Benny Green as a father and the Royal Academy of Music on his CV, Bucks saxophonist Leo Green wouldn't have needed to hone his craft for stardom.
Watch more of our videos on Shots! 
and live on Freeview channel 276
Visit Shots! now
The larger than life character - who's played with everyone from Van Morrison to Quincy Jones, Jerry Lee Lewis and Burt Bacharach – claims the biggest influence on his career came from local band The Lateshift.
Leo, 50, recalls: "When I was 15 or 16, my formative years were spent with a bunch of older musicians from Hemel who were so patient and encouraging with me.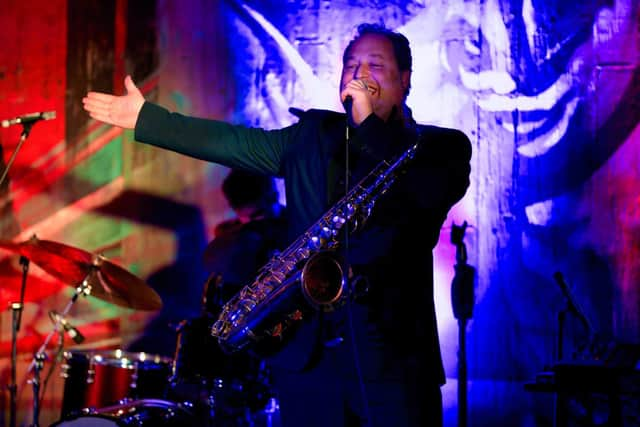 "Rob Stride, Chris Parkins and Phil Sayers had a far greater impact on me than perhaps they knew.
"I learned more doing gigs with these older, experienced guys than anything else.
"We had several residences each week, playing around the pubs of Hemel and it's criminal that young musicians don't have the pub circuit available to learn their craft.
"I was just really lucky, catching the end of the scene with them in the late 80s and early 90s and I remain forever in their debt for that learning ground."
When he was 19, Leo went to a Van Morrison concert and was completely blown away.
"I loved everything about it," he enthuses. "The songs were amazing, the musicians were on fire and to top it off, Van was tearing the place up with his sax solos.
"I just thought . . . this is where I need to be. So I did something very old fashioned - I wrote him a letter asking for an audition."
He was invited to a gig to play a few numbers and ended up staying several years.
"Van is an incredible artist, songwriter and musician and I was incredibly lucky to have had that opportunity to play in his band and learn from him," he says today.
The father-of-four was born in Watford and spent the first 18 years of his life in Kings Langley where he had an idyllic childhood.
"Whizzing around on a bike and playing football seemed to be all any of us wanted to do back then," he smiles, before confessing: "I went to Aldenham School . . . occasionally."
Life in the Green household was very music orientated, with both his father and grandfather being sax players.
Leo says he was lucky enough to be given a tenor sax when he was 15: "Something that would shape the rest of my life and take me all over the world – and get me into situations I still can't believe actually happened."
But ask him to recount some of these anecdotes and he chuckles: "Wait for the book to come out."
No doubt there will also be some stories from his radio career – he's had shows on BBC Radio 2 and Jazz FM.
Leo says he's always loved radio – probably more than TV – and explains: "When I was growing up, it was possible to take a radio with you wherever you went.
"I know with all the devices available today you can watch whatever you want wherever you want. But that experience of radio has stayed with me.
"I also used to go with my Dad to record his Radio 2 shows.
"It seemed to me a very natural thing to do – to sit around talking about all the music I love."
So 10 years ago, he started thinking up ideas for a programme and knocking on doors – and a new online station called Jazz FM gave him a shot.
He says: "Since then I've been peddling and pitching and I've been lucky that a few stations have let me share my musical passions."
And his heroes? "So many," he sighs. "They include Frank Sinatra, Otis Redding, Elton John, Aretha Franklin, Louis Armstrong, Bruce Springsteen, Little Richard, Count Basie, Billy Joel, Ella Fitzgerald . . ."
Leo credits his family with keeping his feet on the ground.
He says: "As a society, I don't think we talk enough about how men attempt to balance juggling job/family/being a parent and/or husband.
"Everyone deals with these pressures differently and ultimately how we are can be down to the people around us.
"I'm lucky enough to have a brilliant and amazing wife and kids."
But he has one constant source of bemusement: "Why don't they find my jokes and sense of humour as hysterically funny as I do?"
Not surprisingly, he has very strong views on the lack of musical education in schools.
"It's absolutely criminal that they're not given the financial tools to really get the kids involved with music," he observes.
"It makes no sense to me that so many of our so-called decision and policy makers love to be seen and heard banging on about the importance of mental health. And yet if they really gave a ****, they would ensure there was an inclusive and wide spectrum of music available in our schools.
"I really wish someone in Government would give me a call – I'd be more than happy to help out with some suggestions."
> Experience Leo Green yourself at one of the West End's most exciting live venues – QT at Middle Eight in Covent Garden. Here are some recommendations from names you might recognise:
"What a bloody brilliant band!" Rod Stewart
"A very talented young man!" Robert de Niro
"You guys are rocking!" Ronnie Wood