​Storm see off Lions in cup clash
​Hemel Storm overcame Division Two challengers Teesside Lions on Sunday night to prolong their defence of the National Cup and move into the fifth round of the competition.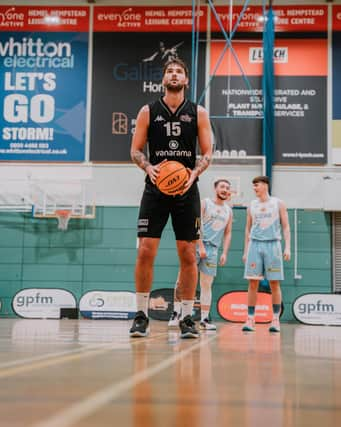 ​Despite a strong start, the Lions slowly faded away throughout the night as Storm became comfortable and began to put on a show in front of the expectant Storm crowd.
The Northern visitors showed no signs of jaded legs after the long trip from Teesside, racing out the blocks and exposing insecurities in the Storm defence, who continuously failed to guard the perimeter effectively and gave up offensive rebounds to allow frustrating second chance points.
The Lions hit six first quarter triples, showing their intent to cause a cup upset, and Storm were grateful for Brayden Inger's 12 early points to limit the deficit to eight at the first break: 23-31 to the guests.
Storm slowly grew into the tie with help from Matt Disu and Hakeem Sylla. Back-to-back Tez Allen and Brayden Inger threes, followed by five late points from Jack Burnell eased Storm to a ten point half-time lead.
Mark Clark demanded more from his side and they eventually put together an inspired display to start the new period. Burnell again hit from long range to contribute to his total of 12 for the match and despite the Lions' best efforts Storm's superior quality began to show, with the lead extended to 23 after a lay-up from Greg Durand. Teesside continued to battle with Storm's lead held at 19 heading into the last period.
It was time for the players to impress their coach and add some fire to the fans' Sunday evenings. Sam Newman hit five early points before the chaos began to unfold, with Sylla slamming home to add to his impressive tally of 22 points, combined with 11 rebounds to give him another double-double to put on his personal record.
Then explosive guard Disu provided the fireworks on Diwali night, with back-to-back dunks including an astonishing climb and finish to set the crowd alight. However, for Storm the offensive flames were stoked by a superb defensive display where they afforded their guests a staggering zero final quarter points to win the last period 28-0, and the final three quarters were taken by Storm by a total of 55 points; 80-25.