​Storm avenge Dragons loss in Bradford
​Hemel Storm gained revenge against Bradford Dragons by winning 81-93 at the Inspire Leisure Centre on Saturday.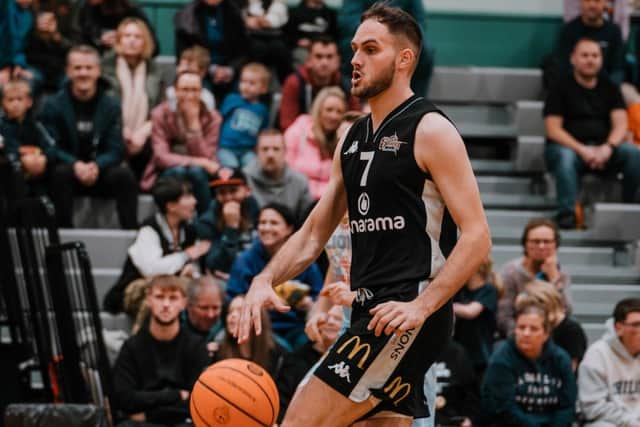 ​Controlling the game for the majority of proceedings, Storm were able to rise up to pressure from the nine man roster of the hosts, putting together scoring runs in important moments to gain victory.
It was a quick start to the game for the away side, showing no signs of tiredness from the lengthy journey up north. Storm were able to score from their chances, using the physical dominance of Hakeem Sylla inside the paint, matched with the shooting package of Brayden Inger, Jack Burnell and Seth Swalve from the perimeter for a 10-25 lead at the end of the first.
It was unclear to see who had the momentum in the second quarter, as both teams scored 22 apiece, meaning Storm went into the half time break with a 32-47 lead.
The Dragons' mentality was shown in the third quarter, playing the game with nothing to lose and cutting the deficit. What was important for Storm was that they did not panic when in possession, executing the plays called by Coach Clark. The away side went into the final quarter with a 58-63 lead; the final quarter shaping up to have an exciting ending.
Momentum shifted in Storm's favour at the start of the final period, with tiredness beginning to show from the valiant Bradford Dragons. Their hard work to get the score to within five points was diminished after a Burnell three-pointer forced Coach Mellor into a timeout, with Storm winning by 11 points.
The Dragons lacked a response to this, with Storm looking stronger towards the final buzzer. Their efforts in the first half of the final period, meant that Storm were able to take their foot off the pedal, conceding some avoidable turnovers as a result of the points margin.
Despite the drop in standards in the final part of the quarter, Storm held out for the 81-93 victory, much to the delight of the travelling supporters.
It was a pleasing performance from the team, showing a clear reaction from the defeat two weeks ago at the same venue.
Top Scorers: Hakeem Sylla, Seth Swalve: 24 pts, Jack Burnell: 14 pts, Brayden Inger: 10 pts
Storm face a local double header this weekend at Thames Valley and Worthing Thunder.