​PBs galore for Berkhamsted squad in Peanuts League
​Berkhamsted's young swimmers were involved in round two of the Herts Peanuts League and produced some creditable results.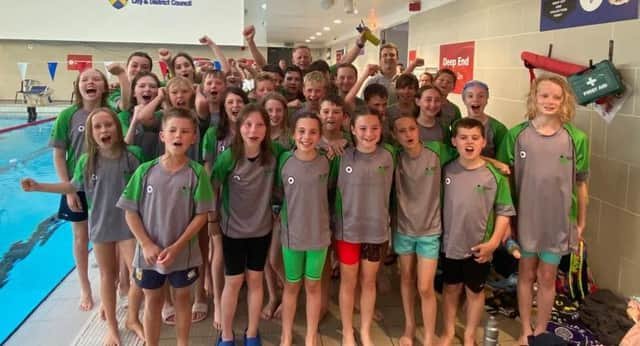 There were three individual wins on the night started by Valeria Antonini with a comprehensive victory and PB of 39.50 in the 12 years 50m Breast.
Henry Mumford claimed victory in the 12 years 50m Free, smashing his PB by over seven seconds to cruise home in 34.04, and Dewi Fordyce confirmed his place as one of the top nine-year-old sprint breaststrokers in the county taking his win in the 25m in 22.04.
Tom Broadwith, Ed Atkinson and Rafe Lawson took second places in the 11 years 50m Free (36.99); nine years 25m Breast (25.33, PB) and 11 years 50m Fly (37.90, PB) respectively.
The meet finished with the 8 x 25m Squadron relay and the team of Mumford, Sam Childs, Antonini, Darcie Cader, Broadwith, Atkinson, Maisy Harding and Poppy Welbourn ended the gala on high for the club with victory in 2:17.46.
There were PBs for Welbourn and Atkinson in the nine years 25m Fly, with 20.40 and 26.03 respectively. Then in the ten years 25m Free they were replicated by Emilia Littlechild and Childs with 20.19 and 16.62. Lily Ashton and Bo Kirk-Hale were first time swimmers in the 12 years 50m back, posting 52.79 and 50.06.
In the nine years group, backstrokers Isabella Langer and Sam Travis recorded bests of 25.03 and 24.09, followed by ten years fly 25m best times for Ameline Kreckel (19.15) and Evan Connors (23.64).
The 11 years 50m Breast races had further first timers in Rebecca Firmin (1:02.12) and Josh Barker (55.25) and Caitlin Wright dropped her 50m Free time to 45.23 in the 12 years group.
Further PBs were set by Elka D'Arcy (9 years 25m Breast, 28.31); Mia Monksmith and Evan Connors (10 years 25m Back, 22.79 & 22.86) and Maddie Hessey in the 11 years 50m Free with 39.21, dipping under 40 seconds for the first time.
Biggest PB came from Ellie Atkinson in the 12 years 50m Fly who took nearly 12 seconds from her best with 52.30 and then Ben Woodhams smashed his own 50m Fly by over six seconds, clocking 45.18.
Darcie Cader (ten years Breast, 24.63), Maisy Harding (11 years 50m Fly, 56.27) completed the PBs for the club.
The remainder of the squad in competition on the night were Mary-Catherine Anderson, Zakki Svichla-Fekete, Myles D'Arcy and Emilia Faccini.