Berko swimmers impress in National Arena League
Berkhamsted Swim Club's first foray into the National Arena League for a couple of years proved a baptism of fire for many of their juniors who had not experienced the atmosphere before.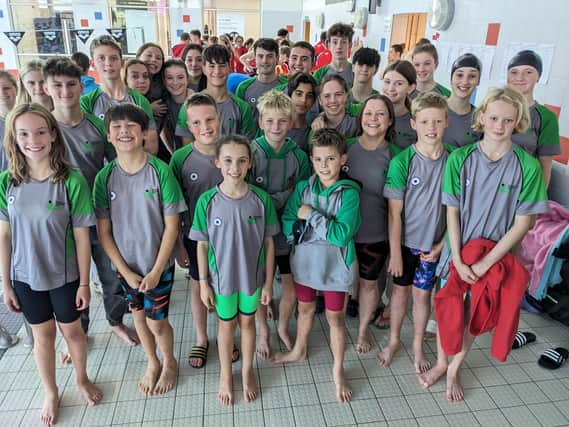 Whilst there were no first place finishes on the night there were many personal best swims and much evidence of improvement in terms of skill and approach to racing.
Ten-year-old Dewi Fordyce is growing in maturity with every swim and still has another year left in the youngest (9-11) age group. His second place in his 50m Breaststroke (42.90) was more than a second faster than he has managed before and places him top of the ten-year-olds for the event in Hertfordshire. He also improved his 50m Back time to 43.54.
For the older swimmers, club captain Kate Hopper (16) had her first races after a bout of Covid and was delighted to be close to her best in the 200m IM after an aborted first attempt due to a faulty starting mechanism when the race was stopped after 50m, posting 2:31.17, and also took third in her 100m Free in the Open category.
Masters swimmer Tracy Van Deventer was very happy with her second fastest 100m Fly since the pandemic as she clocked 1:22.32 for fifth place against swimmers who were decades younger. Her 1:22.32 puts her in the top 20 for her age group nationally.
Eleven-year-old Rafe Lawson picked up second in his 50m Fly (38.49) while Nell Coster smashed both her 100m Fly (1:09.99) and 100m Breast (1:27.77) to pick up second and fourth respectively.
There were third place finishes for Valeria Antonini (12/13 years) in the 100m Breast (1:28.43) and first timer, ten-year-old Sam Childs in his 10-11 years 50m Free, with 35.94.
On top of that there were PBs for 13-year-olds Poppy Awdry in her 100m Back in 1:25.13, Poppy Carbery for her 100m Fly (1:31.49) and Jack Moss for his 100m Breast – 1:38.26.
Fourteen-year-old Rose Llewhellyn was ultra aggressive in taking more than eight seconds off her 100m Free, clocking 1:15.25 and Alana Van Deventer for her rarely swum 100m Back (1:28.07) and finally Hugo Verstringhe in the 14-15 age group took two seconds off his 100m Breast best time with 1:30.18.
In the relay events there were three third place finishes. The 9-11 Boys, Childs, George Gosling (9 years old), Fordyce and Lawson combined for the 4 x 50m Free and all apart from Lawson have at least one year left in the age group.
They repeated the feat in the Medley Relay as well. The 12-13 Girls, Awdry, Emilia Faccini, Carbery and Antonini were a good combination in their Free relay taking their own third place.
But the biggest cheers of the night came in the final squadron (8 x 50m Free) cannon relay. Using an unconventional order, starting with older swimmers, Hopper and Cam Macdonald, they opened a big enough lead that, following legs from Antonini, Moss, Coster and Alex Howard, the youngest two swimmers, Mia Monksmith and Sam Childs were able to swim exceptionally to hang onto third place finishing in 4:19.47.
The remainder of the squad comprised: Felix Armond, Emily Besent, Darcie Cader, Joe Diehl, Euan Donald, Tamsin Moren, and Lily Welbourn.
Swimmer of the night awards went to Nell Coster, Poppy Carbery, Hugo Verstringhe and George Gosling.