Berkhamsted's masters swimmers impress at Ponds Forge
Masters swimmers from Berkhamsted put in some impressive displays at the annual short course championships at Ponds Forge in Sheffield.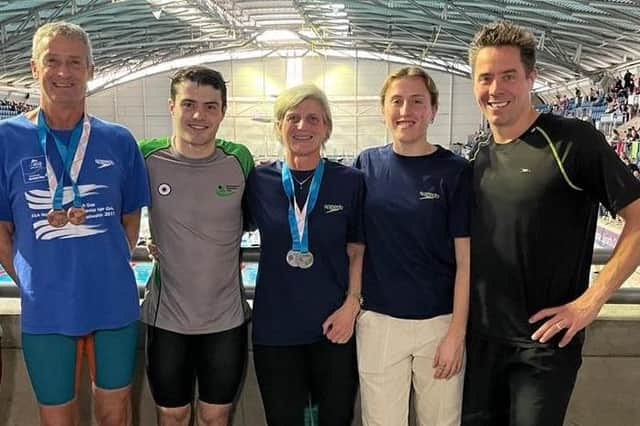 Mark Strakosch produced his usual fine swim in the 1500m Freestyle, clocking 20:13.91 for a bronze medal. Mark worked his way through the field from sixth at 50m to finish fourth in the heat.
Tracy Van Deventer also gave evidence to her strength in the endurance events with another Bronze in the 400m IM. Focussing on technique, rhythm and pacing she ended with 6:09.50 to claim her medal in the first event of the Friday afternoon session.
In the 50m Freestyle, Cam and Ellie MacDonald both came up trumps with Cam clocking a pb of 27.04 and Ellie replicating that feat with 28.43.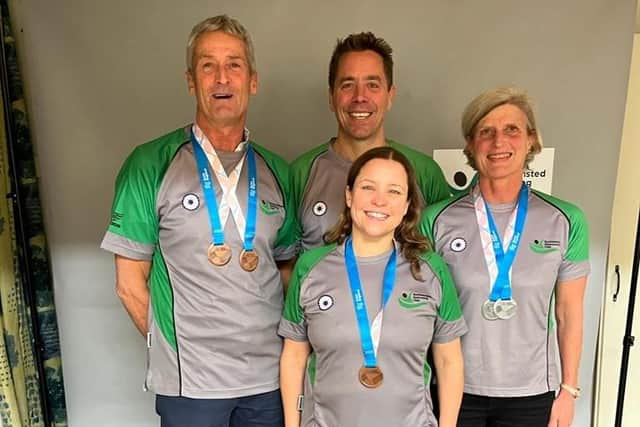 The MacDonalds were also represented in the Ladies' 100m Breaststroke with Ellie finishing in 11th in 1:22.32 and Mum, Sian, claiming the Club's highest placing on the day with Silver in her Age Group, stopping the clock in 1:35.84, her fastest since the 2019 Nationals.
Onto the 100m Back and Strakosch was right on his post Covid best time with 1:22.51 and Cam MacDonald swam slightly quicker than the time he went in the Arena league just two weeks earlier, hitting the pads in 1:07.32.
Van Deventer finished the day with her 200m Fly and was happy to pace her swim and feel strong on the final 50m to go 3:09.02 and fourth in Age. She then began day two with the 200 IM and despite a costume malfunction was still able to go sub three minutes, ending with 2:58.71 for 9th.
Cam MacDonald didn't quite spot his finish in the splash and dash 50m Back and had to settle for 30.30 but, clearly, a swim inside the magic 30 seconds is eminently possible for him.
Strakosch claimed sixth place for his 200m Back in 2:56.67 which was faster than his time at Nationals in 2019.
Gareth Garner swam his first event of the meet in the 100m Free and benefitted from the extra speed work he has done recently by dipping inside a minute for the first time.
Starting half a second faster than his 50m time from his PB he held on grimly to finish third in his heat and duck inside 60 seconds with 59.30, an improvement of nearly a second. Cam MacDonald also set another PB improving by half a second himself to 59.42 swimming to a different plan and coming home in 31 dead compared to Garner's 31.61.
Sian MacDonald ended the afternoon with an excellent 200m Breast cruising home four seconds faster than at last year's Championships, and making it a brace of Breaststroke Silver medals for her in 3:30.66.
The second day's evening session began with Ellie and Sian competing in the 50m Breast with Mark and Tracy taking on the 800m Free in successive heats.
In the Breast Sian recorded 45.14 for 6th in Age and Ellie swam inside 38 seconds for the first time this year with her 37.28 pushing her to second place in her heat, just less than 0.3 seconds outside her life time best.
Tracy was in the heat prior to Mark for the 800m. She swam 11:06.24, a little short of her best, and was followed by Mark who started steadily, turning at 50m in seventh place before moving through to finish second in his heat and the Bronze medal with 10:40.69.
Sunday morning began with Mark first up for the 200m Free, followed by Gareth and then Cam. Mark started, as he had in his other races this weekend, conservatively, but came through from 10th at 50m to 7th at the finish in 2:28.36. Gareth started very strongly, turning at 50m just outside 30 seconds and steadily moved up on his previous best until holding on in the final two lengths to set a new best of 2:13.33 whilst Cameron turned sub 30 after 2 lengths leading his heat after having the quickest reaction time to the starting signal in his heat. His final time of 2:11.69 was his second fastest ever.
The final session had Mark in the 800m Free where he picked up a fine 4th place with 5:18.15 followed by Gareth with yet another PB in his 100m IM clocking 1:07.42 for 7th place on the back of a super aggressive first 50m.
Mark was also involved in two relays on the final day, as part of Hemel Hempstead squads, leading off on the backstroke leg of the Medley Relay in 38.77 and then anchoring the 4 x 50m Free team in 32.33.
Meanwhile, ex-Berkhamsted swimmer John Wood, now swimming out of Bristol Henleaze, claimed Bronze in his 50m Fly with one of his fastest ever swims with 25.52 and followed with 4th in the 50m Free, winning his heat in 24.56.
He also picked up a relay gold with his club in the 4 x 100m Medley Relay where he posted 57.77 for the fly leg and Bronze in the 4 x 200 Free Relay where he led off in 2:02.34.
On the Sunday morning he was quickly away in his 100m Fly but was slightly slower than his earlier relay leg, posting 58.01 to come away with the Silver medal.
His fastest swim of the meet came as he brought the Henleaze team home to a bronze medal in the 4 x 50m Free relay splitting 23.77 for his leg.