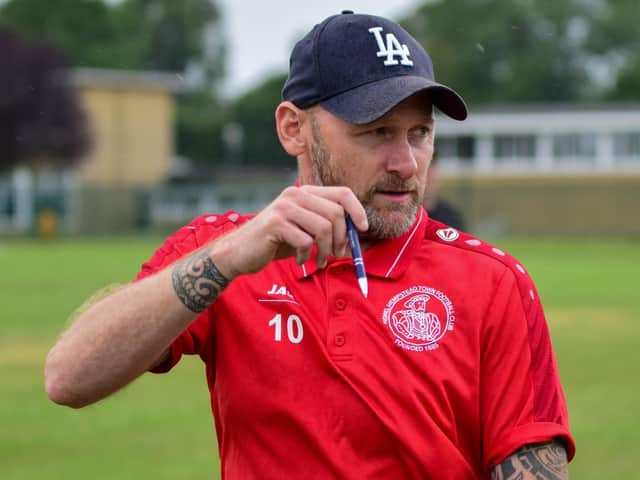 Hemel Hempstead Town boss Lee Bircham
Hemel Hempstead Town boss Lee Bircham insists they have to take the decision to officially end the Vanarama National League South season "on the chin".
The final nail in the coffin for the 2021/22 Step 2 season appeared to be hammered in at the end of last week when the FA Alliance Committee rejected plans put forward by clubs backing the 'Let Us Play' campaign.
The proposals took the form of a supplementary competition involving those clubs in the National League North and South who wished to play on with clubs playing each other once and battling it out for two promotion places - one automatic and one through the play-offs.
Hemel had been clear in their desire to continue the season but Bircham believes the part of the proposal, which would have seen clubs starting with their points per game average multiplied by 15 was an area in which it fell down.
But Bircham refused to lay the blame at anyone's door as the season now looks set to end in a null and void scenario with the vote taken by Step 2 clubs expected to be ratified by the FA Council today (Thursday).
"Everyone has their own opinion but I think the points per game part made things a bit confusing," the Tudors boss said.
"When you start giving teams points here and there, I think we shot ourselves in the foot a bit there by trying to do that.
"I understand why because clubs have vested interests but to all and sundry it was a new competition being put together and if we had gone into it starting from scratch then it might have stood more of a chance.
"I thought that aspect looked a bit scratchy. If it had happened you'd have had a number of clubs going into it so far behind, it would have felt like you're there just to make up the numbers.
"That's no problem to me from a competitive point of view but every chairman needs to have some sort of reason to keep funding it.
"I don't think we got that right but I can't blame anyone because they had no guidance of what might go through or not.
"It's very hard to take for the likes of Dorking, St Albans and Dartford who have invested heavily into trying to get out of the division.
"We did feel this had some legs but it's not to be. Like last year, it was deeply disappointing for the season to get pulled while I was at Berkhamsted and we were having a great season.
"We wanted this season to continue but it's all ifs, buts and maybes. We have to take it on the chin now and look forward to next season."