Ajayi happy to stay with Tudors as squad continues to take shape
​Defender Kyle Ajayi has agreed to remain with Hemel Hempstead Town for a fourth season as they prepare for another campaign in the National League South.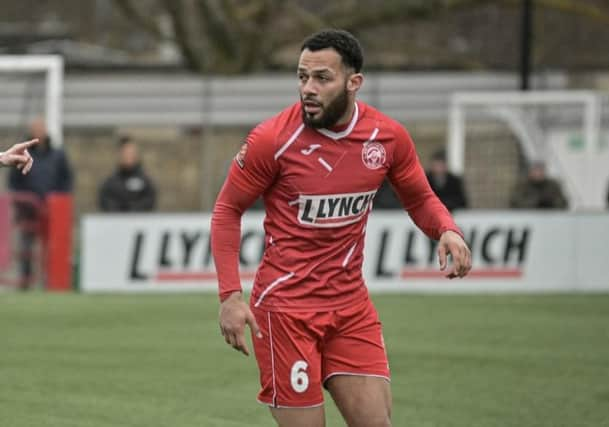 Ajayi joined from AFC Dunstable in 2020 and has been a key figure in the Tudors ranks ever since.
And speaking to the club's YouTube channel, he said he's delighted to stay on.
He said: "It means a lot to stay. I know so many of the fans well – even when I wasn't playing I was watching in the crowd with them and many have become my friends – so it just feels right.
"The last couple of years haven't been great injury-wise and I haven't had a chance to show what I'm about, so to end last season with a couple of awards [Young Player of the Year and Goal of the Season] has been great because I've had to put in a lot of hard graft and be patient.
"The new management team has enhanced me as a player – they play to win every game whilst at the same time teaching me as a player and that's a lot and they've been patient with me and helped me with little things in my game.
"They take the time to show me and work with me and it means a lot."
Meanwhile, Hemel have re-signed Reece Grant after his brief spell with the club towards the end of the previous season.
Grant, who previously achieved promotion with manager Brad Quinton at Braintree in 2017/18, also played for Dover and Chelmsford last season and will
​Grant joins midfielders Joe Re and Jethro Hanson in joining the Tudors this summer, the central midfielder having caught manager Quinton's attention with consistent performances over his four-year spell at Cheshunt, making 36 appearances in the National League South last season.
Re became a vital member of Cheshunt's side throughout his time at the club, winning both Players and Supporters player of the Season in 19/20 and 20/21 seasons.
Hanson, meanwhile, spent least season with Hereford in National League North.
Josh Hill, George Williams, Craig King, Kaylen Hinds and Montel McKenzie will all still be at the club next season, having either agreed to remain or still be under contract, with several other players in talks to remain or having been offered terms to re-sign.