Berkhamsted residents criticise 'second class' repairs to 'dangerous' road
Taylor Wimpey organised for contractors to carry out a series of works to the road in question in May, in response to concerns shared by residents
Friday, 18th June 2021, 2:39 pm
Frustrated residents have criticised developer Taylor Wimpey over 'second class' repairs to a road near their homes in Berkhamsted.
Residents contacted Taylor Wimpey - which did not construct the road originally - earlier this year and asked the firm to take action to repair the road surface, at the extension of Princes Close.
The development in which Princes Close - a rear access road - is placed was constructed by another developer in the 1960s, but now falls under Taylor Wimpey's ownership.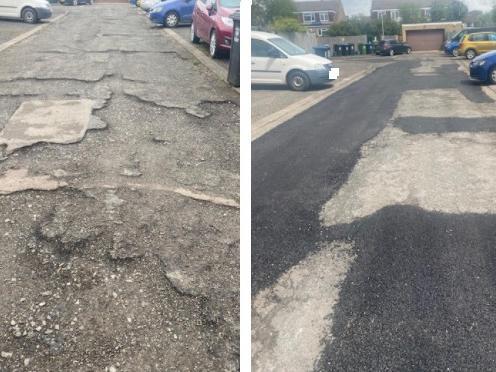 The road before and after the remedial works were carried out
In early May 2021, and in response to concerns shared by residents, Taylor Wimpey organised for contractors to carry out a series of works to the road in question.
But residents have criticised the repairs.
A spokesperson for the residents of Princes Close, said: "We are not happy, we believe Taylor Wimpey chose the cheaper option to repair the road, we have waited over 30 years for this, and they have done a second class job.
"The road has become a terrible hazard and a danger to the local residents and passers-by.
Taylor Wimpey organised for contractors to carry out a series of works to the road last month
"After three months and many emails and posts on social media we eventually were given a date that Taylor Wimpy would proceed with remedial work.
"Much to our disappointment, the road would only be patched up after 50 years and not resurfaced.
"We have been told that the surface will only last a couple of years, and my main concern is will we have to go through all of this procedure again as now the council will not adopt the road.
"To say this is a disappointment to us all is an understatement. There has been many years of work to get this sorted out and now we have a patched up road that will only last a couple of years, some of the drains are totally blocked up too.
"We all pay our council tax and I am sure that we won't get a discount for this inconvenience.
"We would've been much happier if the road had been properly resurfaced so it would last many years.
"The rules have changed over the years and now Hertfordshire County Council cannot adopt the road, but we want to know why that is the case.
"We want Taylor Wimpey to explain why they have not repaired the road properly, there are still blocked drains that we were led to believe they would be sorting.
"And we want someone from Hertfordshire County Council to speak to us and tell us why they will not adopt our roads, when they have adopted most of the other roads in the area.
"If this had been sorted out many years ago before the adoption laws changed we would have an adopted road, but it's taken Taylor Wimpey this long to take responsibility.
"All we wanted was a resurfaced road that would last for many years to come if it could not be adopted.
"Everyone is fed up now, this has been going on for far too long."
Taylor Wimpey has been working with Hertfordshire County Council to seek the formal adoption of Princes Close and has received confirmation from them that this will not be possible, due to a policy of not adopting non-through roads.
Drain and sewer blockages are the responsibility of the local water provider and were not included in the remedial works.
A Taylor Wimpey spokesperson said: "We are sorry to hear that residents are unhappy with the remedial works that have been carried out to the road at the extension of Princes Close.
"Following completion of the work a Taylor Wimpey representative inspected the road and deemed the repairs to have significantly improved the surface.
"We remain committed to carrying out remedial work whenever necessary in order to maintain the public highway and keep the road safe for all users. We encourage local residents to continue to report any future deterioration of the surface to us so that we can take appropriate action."
A spokesperson for Hertfordshire County Council said: "The eastern end of Prince's Close where these works have been carried out is a private road, built by a housebuilder in the 1960s and now owned by Taylor Wimpey.
"We have been in discussion with Taylor Wimpey about the possibility of adopting the road as public highway in the future, but for now the condition and maintenance of that section of road remain Taylor Wimpey's responsibility.
"We will only adopt private roads where there is a significant benefit to the public, and where the condition and construction of the road meet our high standards."