Superheroes assemble at Riverside Shopping Centre for free event
On Saturday 17th June Riverside Shopping Centre, located in the heart of Hemel Hempstead, was host to a huge array of famous movie heroes and villains for the return of their annual free Superheroes and Villains event.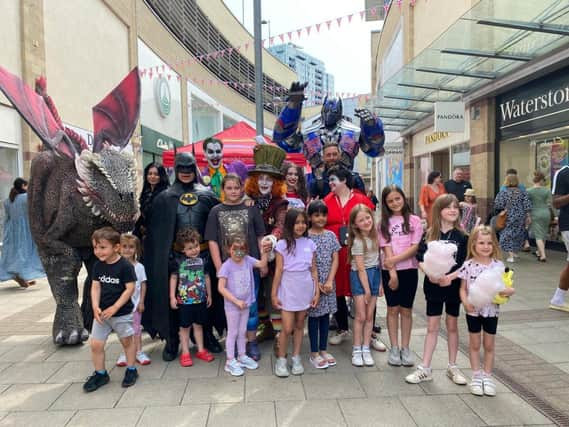 Families came along to meet their favourite on screen characters on their weekend shopping trip, snapping photos and having unique interactions with the actors. Star Wars fans were able to interact with an army of storm troopers, whereas comic book fans got up close and personal to Marvel and DC characters including Batman, Iron Man and Wonder Woman.
A larger-than-life dragon also made appearances throughout the day, alongside Transformers favourite Optimus Prime who posed for photos with fans.
Alongside the characters, a selection of famous movie and TV cars were on display outside the shops and restaurants, including children's favourites Lightning McQueen and the Noddy car, and the Ghostbusters' Ecto-1 and the Batmobile to the delight of the parents!
Free face painting saw children transformed into their favourite heroes, whilst the treasure hunt trail around the shopping centre saw one lucky winner receive a £50 Clarks voucher to spend at the shopping centre as part of an exciting prize draw.
The event was put on by Riverside Shopping Centre as part of Great Ormond Street Hospital's 'One Great Day', with the proceeds being split between this charity and the local Gaddesden Place Riding School, a charity that aims to enhance the lives of disabled children and adults through equine therapy.
Phil Stiff, Centre Manager at Riverside Shopping Centre said: "Our Superheroes and Villains Day was once again a roaring success, and we were thrilled to see so many families in attendance for what was a truly magical day. Guests loved meeting some of their favourite on screen movie characters and seeing famous movie cars, with money being raised for two fantastic causes in the process. We are still in the process of counting up how much has been raised overall, and will share the total sum in the coming days. A huge thank you to everyone who came along!"
For more information about the art competition visit the website or find updates on the centre's Facebook page.