Lib Dem leader slams refusal to allow ULEZ signs in Herts
The controversial expansion of the Ultra Low Emissions Zone scheme (ULEZ) came into effect this week
Watch more of our videos on Shots! 
and live on Freeview channel 276
Visit Shots! now
HERTFORDSHIRE County Council has been accused of 'playing silly politics', after its refusal to install ULEZ signs within its borders.
The controversial expansion of the Ultra Low Emissions Zone scheme (ULEZ) came into effect this week.
And that means motorists in the most-polluting, non-compliant vehicles now have to pay £12.50 a day to drive on Greater London roads.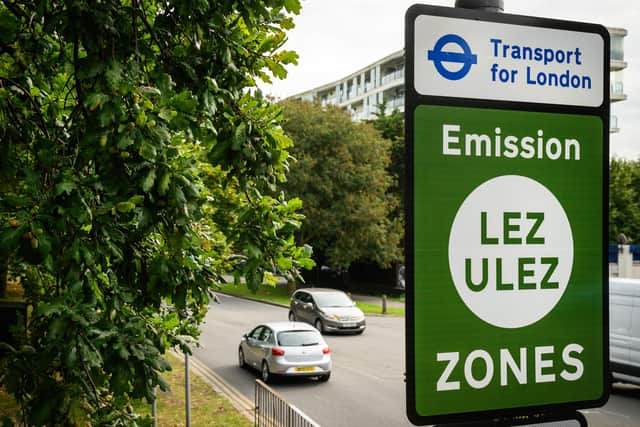 The scheme is designed to improve air quality within Greater London.
But critics say the move will penalise motorists who cannot afford to change their cars – or pay the charge.
Hertfordshire is one of a number of neighbouring councils that has refused permission for ULEZ signs to be installed within their boundaries.
And there have been some suggestions that this refusal could cause safety issues.
Hertfordshire County Council leader Cllr Richard Roberts has told the London Mayor that any safety concerns must be addressed within Greater London – even if that means moving the ULEZ boundary.
And in a letter – written just days before the scheme was implemented – he has now challenged the Mayor to supply the safety audit that any TfL concerns are based on.
"We have requested copies of any ULEZ safety audits to identify areas where Transport for London (TfL) have safety concerns, what those concerns are and what action they believe would mitigate them," said a spokesperson for the county council.
"If the Mayor and Transport for London believe that their expanded ULEZ could lead to an increase in accidents at the border, the Mayor should do the right thing and move the boundary inwards and address any signage issues within Greater London."
Meanwhile a spokesperson for the Mayor of London has told the Local Democracy Reporting Service there is no justification for councils to refuse to install the signs.
"Given that five opposing councils have spent upwards of a million pounds of taxpayers' money losing a case in the high court against the expansion of the ULEZ, there is simply no justification for them refusing to install signs," said the spokesperson for the Mayor of London.
"Their actions makes their residents and other drivers' lives more difficult.
"Highways England have co-operated fully and responsibly with TfL meaning there is ULEZ signage on major roads leading to the London boundary and at all points of entry to the zone.
"These councils should do the same rather than playing silly politics, and do what's best for their residents and drivers."
MEANWHILE leading Liberal Democrat county councillor Steve Jarvis has warned that Hertfordshire's 'petty' refusal to install ULEZ signage could increase the chances of residents inadvertently entering the zone.
"Refusing to allow ULEZ signs in Hertfordshire is not going to stop the scheme going ahead," said Cllr Jarvis, who is leader of the Liberal Democrat group on the county council.
"What it will do is make it more difficult for Herts residents who have non-compliant cars and vans to know exactly where the ULEZ starts and to avoid entering it if they don't need to.
"The Conservative leader says he does not agree with the charge, but his petty refusal to allow signs can only result in more Herts residents paying the charge – or being fined for failing to do so.
"That might suit his political purposes but it won't help the people affected."
In order to highlight the expansion to the ULEZ scheme the county council has published an 'open letter' to residents – sent directly to to 12,000 'Update Me' subscribers.
And it has created a dedicated area of its website to address residents questions, at www.hertfordshire.gov.uk/ULEZ
Outlining concerns in the 'open letter', Cllr Roberts says: "We believe that implementing this expansion will disproportionately impact some of the poorest in society and potentially price them off the roads.
"In the midst of pressures on family and business budgets not seen in over a generation, this is the wrong scheme at the wrong time."
In the letter Cllr Roberts advocates a redrawing of the ULEZ boundary at outer London transport hubs, allowing motorists from the Home Counties and further afield to use public transport without incurring the daily charge.
And he says they will continue to stand up for residents and businesses and to make representations to Transport for London and the Mayor of London.