Visitors to Harry Potter Studio at the end of the A41 from Hemel and Aylesbury could be left stranded fear councillors
It is cited as a reason to protect ticket offices from closure
Watch more of our videos on Shots! 
and live on Freeview channel 276
Visit Shots! now
Tourists looking for Watford's Harry Potter studios could be left stranded by ticket office closures, councillors fear.
Hertfordshire's district and borough councils are scrambling to oppose plans to shut almost all railway station ticket desks in the county.
Cross-party politicians have warned mobility impaired people, elderly people and tourists could be put off travelling around Hertfordshire by train if it becomes harder to find in-person advice at the station.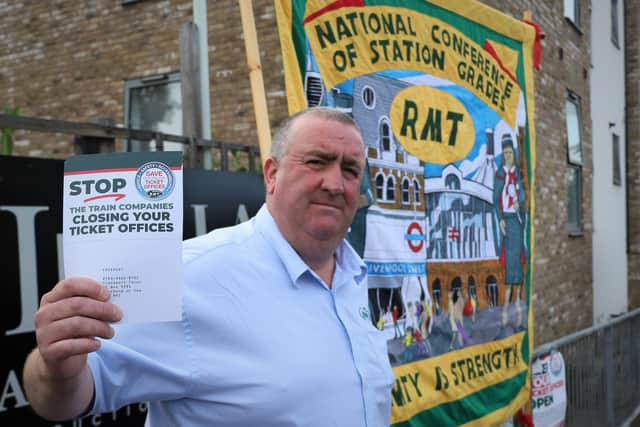 The Rail Delivery Group (RDG), which represents UK train firms, said the proposals are "designed to move staff out of ticket offices and onto station platforms to support better, face-to-face interaction".
A three-week consultation launched earlier this month and will close next Wednesday (26 July).
But borough councils in Stevenage and Watford have agreed they formally object to the plans, with councils in Broxbourne and East Hertfordshire due to debate their position before the consultation ends.
Labour councillor Dennis Watling, who represents Callowland in Watford, said: "We have lots of human traffic in Watford, especially for Warner Bros Studio Tour.
"A lot of people will be staying in Watford for [Wembley] cup finals because it's cheaper to stay outside of London.
"At many stations, ticket office staff are the only ones present, and some passengers will only travel at times where there is somebody available."
Councillor Watling, who has a visual impairment himself, noted Guide Dogs for the Blind and the Royal National Institute of Blind People (RNIB) have both voiced opposition to the proposals.
He added he recently met a couple stranded at Watford Met station, a London Underground stop with no ticket office, who were looking for the Harry Potter Studio Tour bus from Watford Junction – one mile away.
"Had station staff been there to help, they would have been on their way a lot sooner," Councillor Watling said.
The Labour and Liberal Democrat groups backed a motion which compels Mayor Peter Taylor to voice the borough's opposition in a letter to Huw Merriman MP, the rail minister.
Councillor Marilyn Devonish, said: "When I'm coming back at two o'clock in the morning, there is a sense of relief there are staff at that station.
"It's one of the things which acts as a deterrent.
"If we are talking about safety, police presence and women feeling safe in Watford, having that presence in the ticket office is a really important part of preserving that in our community.
"Once it's lost, I don't think it's ever going to come back."
In Stevenage, all three party groups on the council's benches supported a motion against closures.
Councillor Simon Spellar and Councillor Robin Parker said some passengers need "reassurance" and that without it, they feel their only option is to use private transport.
Councillor Bret Facey who has already responded to the consultation, said:""While digital ticket terminals are fine for booking tickets to get from A to B, when you need to get from A to Z and change at every letter in between, they are not easy to use"
"Ticket office staff seem to find a far cheaper ticket than any I can find online.
"At a time when the cost of living is biting, it seems wrong to remove this service now.
"We must remember that older residents who may not have a good level of digital literacy often find digital terminals unworkable, and we must of course not forget passengers with disabilities or learning difficulties who will also find digital ticket terminals challenging and are reliant on staff."
Conservative councillor for Woodfield Phil Bibby, who sits on Stevenage Borough Council and is responsible for transport throughout Hertfordshire, said: "Ticket offices should not be removed until other measures which simplify ticket purchasing have been put in place, such as fare restructuring and a full rollout of contactless payments.
"There needs to be a clear plan in place for people who need assistance in whatever form it takes."
RMT: 'It's not just about tapping with an Oyster card'
In Cheshunt, the RMT rallied outside the town's railway station, urging residents to sign a petition against the proposals.
Ross Marshall, secretary of the trade union's station staff section, said: "It's not just about tapping in and out with an Oyster card or using a machine.
"It's about members of the public that can't use them, people of a senior age, people with disabilities and nervous travellers who do not like using the machines.
"The ticket office in Cheshunt and many others around the country are still very busy.
"Having a presence in the ticket office with people available to answer your concerns as human beings – who can do a far wider range of duties, jobs, help and assistance than any machine would ever be able to."
Mr Marshall, who lives locally, added: "There would have been plenty of people today in Cheshunt where people would have only used the ticket offices.
"Members of my family today are doing an intercity journey.
"They can't use an app and like to discuss the best option at the desk.
"The railway is heavily used and can generate so much money for this country.
"But it's not about doing things on the cheap.
"It's about having a service for members of the public and to have the knowledge you get at ticket desks is not something money should come into."
Just 12 per cent of tickets sold at desks
The RDG's plan would see almost all ticket offices in and around Hertfordshire shut down.
At some busier stations, new customer information centres would be set up – at St Albans City, Stansted Airport, Stevenage, Watford Junction and Welwyn Garden City.
The RDG said ticket offices sold 82 per cent of tickets when the current system was set up – in the mid 1990s – but this figure has since dropped to 12 per cent on average.
"The ways our customers buy tickets has changed and it's time for the railway to change with them," Jacqueline Starr, RDG chief executive, said.
"With just 12 per cent of tickets being sold from ticket offices last year, and 99 per cent of those transactions being available on ticket vending machines or online, our proposals would mean more staff on hand on to give face to face help with a much wider range of support, from journey planning, to finding the right ticket and helping those with accessibility needs.
"Our commitment is that we will always treat our staff, who are hugely valued and integral to the experience our customers have on the railway, fairly, with support and extra training to move into new more engaging roles.
"We also understand that our customers have differing needs, which is why the industry widely sought the views of accessibility and passenger groups when creating these proposals, and will continue through the consultation."
The consultations are on the Transport Focus and London TravelWatch websites, and have received more than 100,000 responses so far.