Major plans to expand Hemel Hempstead into an area "twice the size of Whipsnade Zoo"
Draft 'site allocations' plan for a 504.2 hectare extension to Hemel - on a sliver of land between the town's eastern edge and the M1
Watch more of our videos on Shots! 
and live on Freeview channel 276
Visit Shots! now
Major plans to expand Hemel Hempstead into an area "twice the size of Whipsnade Zoo" on land between the east of the town and the M1 have been unveiled.
More than 11,000 homes will be built across a Hertfordshire district and city faced with a "chronic" housing crisis.
St Albans City and District Council has unveiled its draft list of sites where 11,826 new homes could be built by 2041.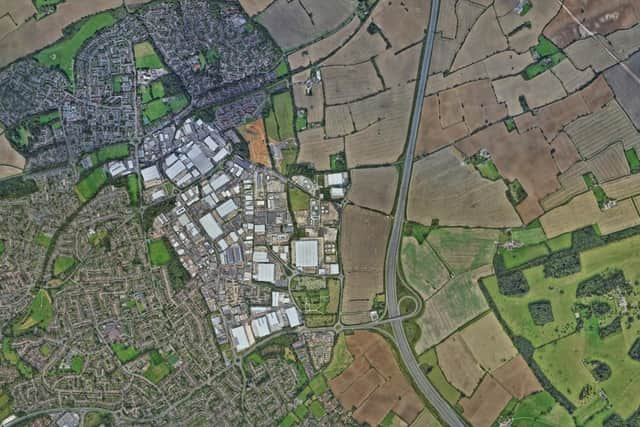 As part of the draft "site allocations", the authority looks set to expand Hemel Hempstead into an area twice the size of Whipsnade Zoo.
By far the largest site for new homes is the 504.2 hectare extension to Hemel Hempstead, on a sliver of land between the town's eastern edge and the M1.
Allocating this land would allow developers to propose up to 5,500 homes – with hopes 4,750 new homes will come forward before 2041.
If a development comes forward, local authorities would ask builders to set aside land for a selection of new schools, including an eight-form entry secondary school.
The Maylands Industrial Estate could see an eastern extension, with plans for an "Enviro-Tech focused employment location" and a "vision" for around 8,000 new jobs.
The draft housing masterplan would also promote "managed woodland" and countryside connections beneath the M1.
Land for almost 3,000 new homes could also be set aside in St Albans city – including a 1,146 bolt-on to the north.
Sites in Harpenden could make way for more than 1,700 homes – with a suggestion for 762 homes "North East Harpenden".
The current set of "core" housing policies are 29 years old in St Albans City and District – dating back to 1994.
In a recent central Government planning appeal over a plan for up to 721 homes in Chiswell Green, St Albans, a lawyer described the situation as "chronic".
Charles Banner KC said at the time: "The council is operating in a policy vacuum.
"This is perhaps the worst failure in plan making in the country."
He added: "With demand increasingly outstripping supply, the 'house price to earnings affordability ratio' in St Albans has grown higher and higher."
According to Government figures, the average house price was 18.44 times higher than the average salary in 2022 – the highest "housing ratio" in the East of England.
This ratio stood at 12.47 in 2012, and at 10.53 in 2003.
If St Albans were a London borough, it would be the sixth-least affordable planning area in the capital.
Some Inner London boroughs, including Camden, Islington, Hackney and Lambeth, were more affordable than the Hertfordshire district last year, the data suggests.
Council leader Chris White (LD, Clarence), fears delaying the plan process any more could lead Whitehall to step in.
"Our community will want locally-elected councillors rather than central Government to draw up this blueprint for the district's future growth as we are responsive to their needs and have a feel for our area," Cllr White said.
"The consequence of us not producing a new Local Plan is that Whitehall might draw up one instead despite having little knowledge of local conditions.
"We will also be prey to opportunistic developers who will try to force through unsuitable schemes.
"Getting a new Local Plan adopted will allow us to control where houses and businesses are built and very importantly, where they are not built."
In addition to deciding where homes would go, a Local Plan allows local councils to demand infrastructure contributions from housebuilders, environmental protections, and land set aside for schools.
If the sites are agreed, developers could choose to make use of 46.75 hectares for 1,146 new homes at North St Albans.
Council planners have said they would like to see two 50+-unit extra-care schemes among this new homes figure.
Developers would also need to consider setting aside land for a new primary school, creating a "neighbourhood centre", and contributing to upgraded transport links.
Another big parcel is referred to as East of St Albans – which could house 522 new homes by 2041.
The authority would like a future developer to contribute to a new secondary school – or set land aside for one – as well as land for a new primary school and investment into Oaklands College.
Some garage blocks could be allocated for new homes, while the 302-space Civic Centre Car Park has been earmarked for 57 homes.
Sainsbury's in Everard Close could become 92 homes, if developers can put forward a plan which would take into account residents' shopping and parking needs.
Land near Verulam Golf Club could become roughly 65 homes, with the proviso "existing golf facilities must be retained or enhanced".
A selection of sites have been put forward for Harpenden, including 762 homes north-east of the town.
Developers using this site may need to put forward plans to upgrade Common Lane, a rural route, and set out how they are going to improve access to Katherine Warington School.
The council has suggested a developer on this site would need to contribute to a new primary school.
Another large "site allocation" is for roughly 293 homes in north-west Harpenden, with additional proposals for homes on the Waitrose and Bowers Way East car parks.
There is a suggestion to set land aside for around 593 homes called "West Redbourn" – between the existing village and the M1.
West of London Colney could see roughly 405 homes, with smaller sites suggested throughout the village.
Developers would need to address concerns around both primary and secondary school capacity.
Along the border with Hertsmere, Radlett could expand by roughly 274 new homes in Harper Lane.
St Albans City and District Council's planning policy committee will debate the full list of sites at a meeting on Monday, June 26.
A public consultation is due to open in July.