Herts councillors back policy changes over fees for home to school transport
The county council has agreed that a flat rate fee should be charged, regardless of the distance travelled
Watch more of our videos on Shots! 
and live on Freeview channel 276
Visit Shots! now
STUDENTS with special educational needs, aged between 16 and 18, are to face an annual £1554 charge for home to school transport – regardless of the distance they travel.
Currently those students, aged 16-18, who qualify for home to school transport only pay £1554 if their school or college is seven or more miles from their home and they attend full-time.
And the charge is reduced proportionately depending on distance from home and the number of days attended.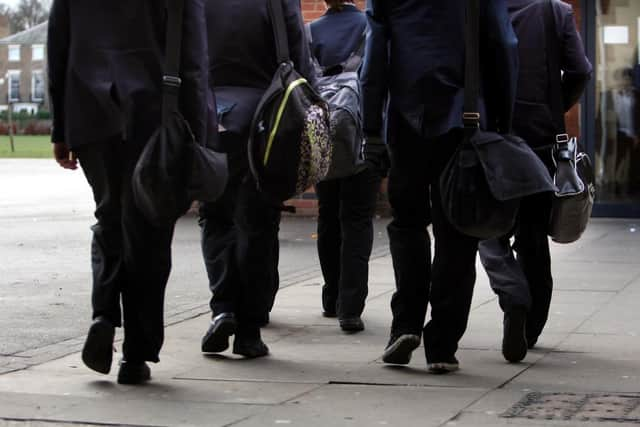 But now the county council has agreed that a flat rate fee of £1554 should be charged, regardless of the distance travelled – although it will be reduced for those students who do not attend every day.
The introduction of a flat charge for 16-18 year olds is one of a number of home to school transport measures agreed by a meeting of the county council's cabinet on Monday (May 15), that will come into force in September.
And it will, according to the plans, be 'updated from time to time to reflect future inflation in costs'.
In addition, a new policy will clarify the role of the passenger assistants, who staff vehicles alongside drivers.
And the county council will also pilot a scheme that would make available 'spare seats' – at a £1554 annual cost – to those pupils with education health and care plans who attend special school but are not entitled to transport.
The Hertfordshire 16-18 railcard will no longer be available to new applicants. And for parents who want to organise their own transport, personal travel budgets will be increased
Presenting the changes to the cabinet, executive member for education, libraries and lifelong learning Cllr Terry Douris acknowledged 'an understandable range of responses' to the public consultation.
He said that the current charges for 16-18 travel – based around mileage bands – were felt to be 'disadvantageous to many young people'.
He said some parents were already paying £1554 – and while he acknowledged calls for the change not to be implemented, he said they needed to 'grasp the nettle'.
Alternatively, parents and carers can already opt to manage their child's transport, in return for a 'personal transport budget'.
And as part of the changes agreed by the cabinet this would be increased to 55 pence a mile – with an additional payment of £150 per term.
Cllr Douris said there was a 'strong desire' to encourage parents to take up the option for personal travel budgets, which he said would offer them greater flexibility.
And even with the increased payments, he said it would cost the council an average of £3500 per pupil – compared to the average SEND transport cost of £9300.
Finally, addressing the removal of the Hertfordshire 16-18 railcard, he pointed to the low uptake – suggesting that only one had been taken-up recently.
At the meeting executive member for resources and performance Cllr Bob Deering highlighted the enhancement of the personal travel budgets.
"We will thereby be giving people more independence about the way they deal with their affairs, the way they organise their travel and the way they deal with their own budgeting," he said.
"I think it's very good and I am thoroughly supportive."
Also presented to the cabinet was the results of the public consultation – including a late response from Herts Parent Carer Involvement (HPCI).
In the written response, HPCI agreed that the role of passenger assistants should be clarified, but with – they said – further clarity to support higher standards, safety, planning and communication.
But the organisation said that the amendments to the charging structure for 16-18 year olds should NOT be implemented.
"Regarding the direct recommendations we do not agree with the increase in cost or introducing a flat rate," says the response from HPCI.
"For many, even at the suggested slightly lower rate than the original consultation, this is still a substantial increase with those travelling the least distance most adversely affected by new proposals."
HPCI said that if the railcard was removed information on available schemes should be well publicised.
And it said personal travel budget rates should be increased – with a view to reviewing rates regularly.
They backed the introduction of the 'spare seats' pilot, but said that risk assessments should be put in place.
Initially, as part of the public consultation document, the council had suggested the flat rate for 16-18 transport could be £1792 a year – although the figure was reduced to £1554.
According to the proposals, for those young people already eligible for 16-18 home to school transport, the current charging structure will continue – until they complete their current courses.
However where they are paying less than the £1554 maximum their charge will be increased by 10 per cent.