Hertfordshire County councillors respond to situation in Israel and Gaza
'Deep shock and sadness at the terrorist outrage' expressed
Watch more of our videos on Shots! 
and live on Freeview channel 276
Visit Shots! now
COUNTY councillors have expressed their 'deep shock and sadness at the terrorist outrage' against Israeli citizens – and their 'deep sympathies with all those caught up in the escalating violence'.
At a meeting of the full council, councillors unanimously voted to 'express solidarity with the innocent people directly affected by the ongoing situation in Israel and Gaza'.
And they resolved to encourage and support good relations 'between our own Hertfordshire communities at this time of immense international tension to maintain community cohesion'.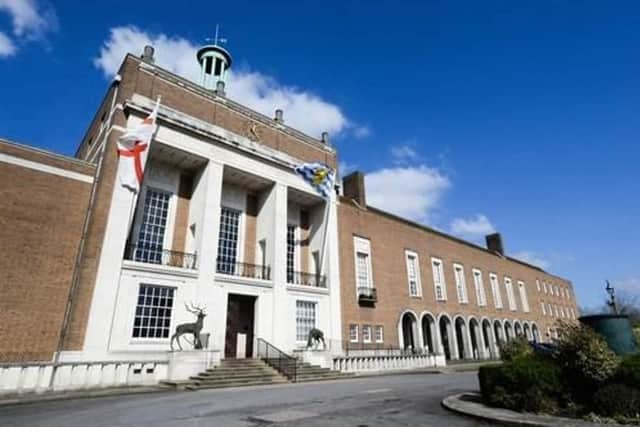 And in a break with usual protocol it was seconded by more than one county councillor – allowing leaders of the Liberal Democrat, Labour and Independent/Green groups to formally second the motion.
Presenting the motion Cllr Roberts told councillors the events of October 7 were 'horrific, brutal, shocking'.
He said innocent Israeli citizens and visitors from across the world of all ages had been 'murdered' in the 'horrific terrorist attack' – which he said 'cannot be glossed over or ever forgotten'.
He said he knew of at least 20 Hertfordshire residents who were directly involved – some who lost their lives.
And he said: "Our thoughts go out to everyone in the county who has friends, family and loved ones in Israel and Gaza and in Hertfordshire, who are desperate for this to stop.
"Hertfordshire is a peaceful county with many different communities.
"At this time, as the motion says, we must all work even harder to reduce community tension. We must work so hard to ensure everyone is kept safe."
He told the council that many nations were now trying to find humanitarian solutions. And he said Hertfordshire was ready 'to welcome refugees of war'.
He said: "Our thoughts must be with the innocents who lost their lives, are still losing their lives – and the long and strong connections that exist between communities in Hertfordshire and in Israel and in Gaza who are worried and traumatised by events and will be for years to come."
Liberal Democrat leader Steve Jarvis said it could never be justified to kill kidnap or terrorise thousands of of unarmed civilian men, women and children because of their nationality, ethnicity, religious belief 'or for any other reason'.
And he said the actions of Hamas on October 7 was something that the whole world should condemn.
He said the attacks had led to a 'ratcheting up of the violence across the region'.
And he said they had undermined the position of those Israelis and Palestinians who recognised that living peacefully alongside each other will require 'dialogue, negotiation and compromise – rather than rockets, bombs and guns.'.
Focusing on the Hertfordshire community, Cllr Jarvis stressed that they should ensure the 'terrible events' did not result in division and community conflict' locally.
And he said:"We must ensure that those with connections to Israel feel safe in their communities here, whether they be Jewish people or Palestinians.
"We must remind people that here in Hertfordshire they have more common in their lives than differences that set them apart."
Backing the motion, leader of the council's Labour group Cllr Nigel Bell said: "… no one of decency would not have been shocked and repulsed by the callous and murderous terrorist attack by Hamas on Israeli civilians just 10 days ago, which has led to the situation we now have in Israel-Gaza now.
"It is right that we recognise the initial suffering of Israeli citizens – and that now our concerns are for all residents, in that whole area, who are now facing a humanitarian crisis."
He also said it was right that councillors represented communities across the county who have been affected – who may have lost loved ones or who are worried about those in Israel and in Gaza..
And he highlighted 'community cohesion' in the county that he said had been worked on for 'so many years' by religious leaders, from synagogues, mosques, churches and temples.
Meanwhile leader of the Independent Green group Cllr Ben Crystall also reflected on the situation in Israel and Gaza and the impact it could have in Hertfordshire.
Cllr Crystall said his heart went out to all those caught up in the horrific events in Israel and in Gaza – and to residents in Hertfordshire with family and friends impacted 'by this dreadful cycle of violence'.
Describing the attack by Hamas as 'absolutely horrific', he said: "Such brutality has no justification and all hostages must be released immediately.
"But it is also important that we can call for an immediate end to all violence in Gaza and across the region.
"The targeting of any civilians, whoever they are, breaches international law and should never be acceptable.
"Our government must continue to work with the international community to protect civilians and infrastructure from attack, to provide immediate humanitarian aid and to end the violence."
He said he was also deeply concerned that the escalating situation could impact local community relations.
And he said the motion resolved to encourage and support good relations between communities in Hertfordshire.
He said councillors should do everything they could to reduce tension and division, avoid actions that could inflame the situation and encourage our communities to be united.
And he said: "Our role as Hertfordshire's leaders is clear – we must stand together and encourage unity over division."
Also among those to speak in support of the motion was Labour Cllr Asif Khan, who said that in the wake of these events it was crucial to come together as a community in Hertfordshire.
"The atrocious terrorist attack in Israel and the subsequent humanitarian crisis in Gaza, have shaken us all, reminding us of the urgent need for compassion and solidarity with the victims," said Cllr Khan.
"[…]Too many innocent lives have been lost on all sides.
"In times like this, it's easy for fear and division to take hold. However, we need that strength to rise above it. It's that unity that truly defines us here in Hertfordshire"
Pointing to the power of collective action, he later added: "Together, our Jewish and Muslim communities – I am part of the Muslim community – can advocate for policies that promote peace, justice, and equality for all.
"By standing shoulder to shoulder, we send a powerful message to the world that we are united against extremism, against terrorism and in our commitment to a better, more inclusive society.
"[…] Let us remember that our shared humanity transcends religious and cultural boundaries.
"Together, we can turn tragedy into an opportunity for growth, understanding, and unity.
"By maintaining those excellent relationships amongst ourselves, we honour the memory of those affected by these events and pave the way for a brighter more harmonious future."
Also in the debate, Conservative Cllr Morris Bright said: "The world is mourning for the murdered in Israel. Life is fragile.
"Let's all do what we can at this most desperate of times to lead, to guide and to assist.
"Terrorism must never prevail. Our support for Israel and our Jewish communities must remain strong. And we must look after all the people in Hertfordshire who are disturbed and troubled at this most difficult of times."
Earlier in the meeting county council chairman Terry Douris had also acknowledged the situation in Israel and in Gaza – before asking councillors to sit or stand and bow their heads in 'quiet contemplation.
He told the meeting: "None of us can be anything but appalled and horrified by the dreadful and barbaric events in Israel on Saturday 7th of October – resulting in the deaths of many hundreds of people, including those innocent young people simply having fun at an open air music festival.
"The callous brutality which has been inflicted on people is almost incomprehensible and will sicken every right-minded person.
"Since that time many more lives have been lost. And we should remember them in our thoughts and prayers."