Council leader vows to turn around SEND services for Herts families as quickly as possible
"We need to make the journey for parents simpler"
Watch more of our videos on Shots! 
and live on Freeview channel 276
Visit Shots! now
COUNTY council leader Richard Roberts has vowed to turn-around SEND services for families in Hertfordshire as quickly as possible.
Earlier this month (November 10), a report by government inspectors pointed to 'systemic failings' in the provision of SEND services in the county – that, they said, must be addressed 'urgently'.
It highlighted a range of issues that included EHCP delays, a shortage of specialist school places, delays in ASD and ADHD diagnoses and long wait times to access speech and language services.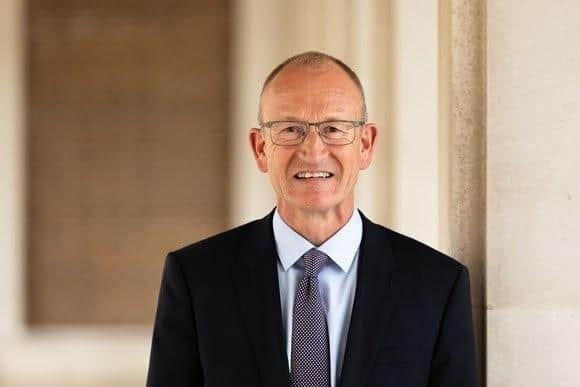 Now council council and NHS bosses are drawing-up an action plan to submit to Ofsted and the Care Quality Commission.
And they have brought-in Dame Chrstine Lenehan to be an independent chair of the multi-agency improvement board.
Dame Christine has recently retired from her roles of Director of the Council of Disabled Children (CDC) and Strategic Director of Practice and Programmes at the National Children's Bureau (NCB).
And she is said to be 'a hugely influential champion of the rights and needs of children and young people, particularly those with special educational needs and disabilities'.
As the report was published, council leader Cllr Richard Roberts stressed to the LDRS that the 'partnership' – which includes the county council and the NHS – had accepted the inspectors' findings and apologised to families.
He stressed that work on the 'improvement journey' was already ongoing – started even before the inspectors arrived.
And he said Dame Christine would 'hold their feet to the fire' and help them to be ambitious for their families.
"We need to make the journey for parents simpler," he said. "And in a sense this report gives us the mandate to try and do that.
"We didn't wait for an inspection to do something about this. We were on the journey of this much earlier.
"And certainly I and the administration at the county council – working with health – recognised earlier this year that we needed to do more."
Pointing to an earlier inspection of children's services, he later added: "It shouldn't be forgotten that children's services this year – in terms of our social care and safeguarding – were judged to be outstanding.
"So this really is an area where we need to get on top of it very quickly – to bring it in line with the highest quality services that we deliver across Hertfordshire."
Before the next inspection, Cllr Roberts says the partnership aims to be a 'leader' in understanding and delivering solutions for families.
And he suggests the county could then provide a framework that could be rolled out across the country.
He stresses that many of the pressures facing the service – including significantly increased demand and complexity – are being felt nation-wide.
And he says the covid pandemic and behaviours in school are among the factors impacting on demand, which he says is increasing 'exponentially'.
In the report inspectors highlight the 'significant delays' with EHCPs in the county, as well as suggesting too many are 'poor quality'.
And latest data suggests that in Hertfordshire just 38 per cent of completed EHCPs are being finalised within the statutory 20-week period.
Cllr Roberts admits 'timeliness' has been 'poor' – and needs to be improved 'drastically'.
He points to £1.5m invested in the EHCP process in 2021 – as well as a further £5m earlier this year, that will pay for a further 80 staff.
And he says that when inspectors return they will find ALL EHCPs being delivered within statutory time limits.
But he accepts that that may require even further investment in SEND services.
Meanwhile the inspectors' report also points to a shortage of specialist education places in the county.
Cllr Roberts highlights £91m investment that, he says, has delivered 560 places in the past four years – with plans for another 300.
The inspectors' report also points to the rate of exclusions for children and young people with EHCPs as a 'concern'. And Cllr Roberts stresses the need for education to be 'inclusive'.
"We cannot exclude children from the education process just because they have behavioural difficulties," he said.
"If education is not inclusive children will not cope as adults and we will create societal problems for the future.
"So we have to find the right settings at the right time in the right place.
"And I am optimistic that we can do that because our education system is good or excellent in 90 per cent of settings."