Hertfordshire's LGBT+ community asked to complete survey to help police tackle hate crime
All answers are anonymous and it will take about 10 minutes to complete
Thursday, 24th June 2021, 11:41 am
Updated
Thursday, 24th June 2021, 11:42 am
The LGBT+ community are being encouraged to take part in a survey which will help Hertfordshire Police tackle LGBT+ hate crime.
The survey is being led by Inspector Steve Alison as part of his Master's degree in Public Services Management at the University of Hertfordshire.
Inspector Alison is the Chair of the Herts Police LGBT+ Network, a support group which provides officers and staff with advice on all LGBT+ matters, whether they are personal or operational.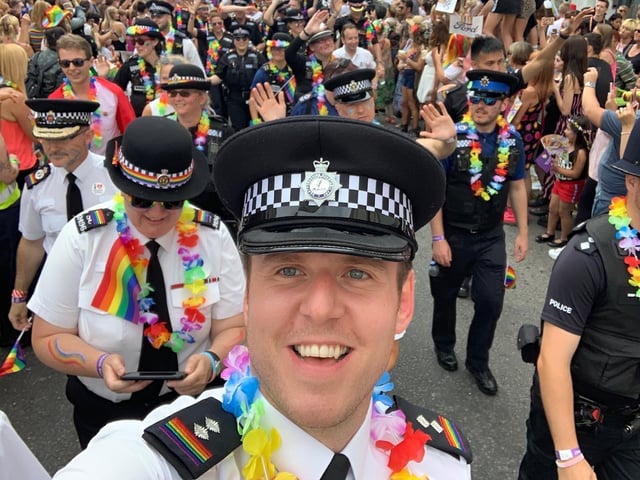 Inspector Steve Alison celebrating Pride
He has worked hard over the years to build better relations with the LGBT+ community and to make the constabulary a more inclusive workplace.
The survey is open to any members of the LGBT+ community who are aged 18 and over and live or work in Hertfordshire. All answers are anonymous and it will take about 10 minutes to complete.
Inspector Alison said: "The aim of the survey is to research LGBT+ hate crime within Hertfordshire and gain an understanding on the levels of under reporting.
"We hope that the results will help us to understand the actual levels of hate crime in Hertfordshire. In turn, this will help us to tailor our services for the LGBT+ community.
"Hertfordshire Constabulary is committed to helping the LGBT+ community and so I encourage as many of you as possible to take part in the survey.
"The more answers we get, the more we can understand how to best provide the support you deserve."
Hate crimes are crimes like any other, but that have the added distinction that the victim was targeted because of their disability, race, religion, sexual orientation or transgender identity.
Victims and witnesses can report incidents to police via the non-emergency number 101, online or 999 if a crime is on-going.
Victims can be reassured that they will be taken seriously and treated with sensitivity.
How to contact an LGBT+ Liaison Officer
LGBT+ Liaison Officers can be reached by calling 101 or by contacting police online. In an emergency or if a crime is on-going, report it immediately via 999.
The support of an LGBT+ Officer can then be requested if required. Officers will treat what you tell them sensitively and in confidence.
To contact an LGBT+ Officer in your local area for non-urgent advice ring 101 and ask to leave a message for them to contact you.