Hemel volunteers help Hearts Milk Bank plant snowdrop heart in honour of bereaved mums who donate their milk
The snowdrop flower is the charity's emblem
Watch more of our videos on Shots! 
and live on Freeview channel 276
Visit Shots! now
Volunteers from Epson in Hemel Hempstead joined members of the Human Milk Foundation team and the Hearts Milk Bank plant a giant snowdrop heart in honour of bereaved mums who donate their milk to help other babies.
The Hearts Milk Bank planted 600 snowdrop flowers in the shape of a heart outside the milk bank at Rothamsted Research in Harpenden, as a way of giving their thanks to bereaved mothers who choose to donate their milk to help another family following the death of their own baby.
The snowdrop flower, known as the 'milk flower' is the charity's emblem and each individual snowdrop bulb will be planted to honour one of their bereaved milk donors for their selfless gift.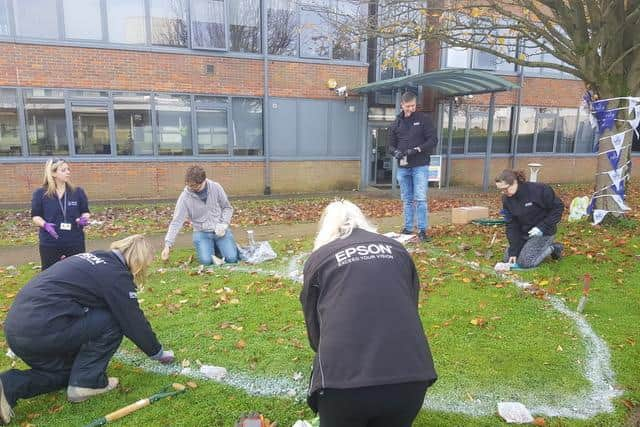 The milk bank, supported by the charity The Human Milk Foundation, provides donor human milk to sick premature babies in hospital neonatal intensive care units and to mums at home with cancer and other conditions. Much like donated blood, donor human milk can be life-saving for tiny babies.
The Hearts Milk Bank team closely supports each individual milk donor who chooses to donate their precious gift of donor milk, but this is even more crucial for mums who choose to donate their milk following the death of their baby through miscarriage, stillbirth, or early death.
In partnership with Elvie UK, the Hearts Milk Bank is also able to offer mums who wish to donate their milk following the death of their baby the use of a free breast pump if they are otherwise unable to access one.
Tania Boler, CEO and Founder of Elvie said: "My thoughts are with the incredible donors who, despite experiencing such immense loss, have endeavoured to help NICU babies and other families in need.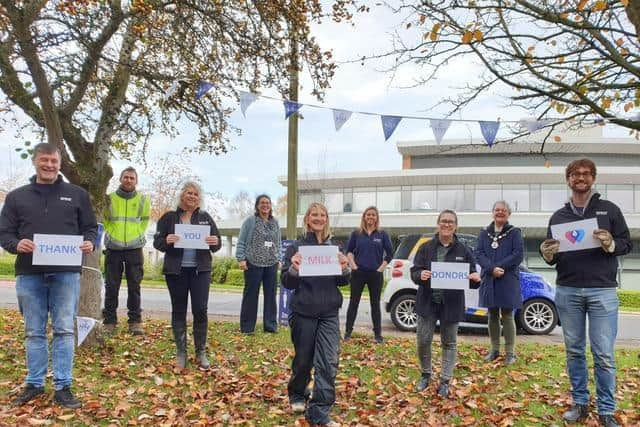 "It's our hope that this small gesture will offer ongoing support to those brave mothers while removing any physical challenges that may come with pumping breast milk.
"The courage and kindness of each bereaved donor are so admirable, and we're proud to be offering our support. We will continue to do whatever we can to help."
For these mothers, donating milk can be especially poignant.
Dr. Natalie Shenker - Co-Founder of the Hearts Milk Bank said: "We know just how important it can be for mothers to donate, even while coping with the greatest pain, to know that their gift can help others and we extend our deepest thanks to all bereaved milk donors.
"We are so grateful to Elvie for their generous donation and to Rothamsted for enabling us to create this display in their honour.
"We hope that when the Snowdrop Heart blooms in the spring, it will act to remind all of us of the amazing mums who donate milk, even while coping with the greatest pain, to help another family."
Volunteers from Epson UK in Apsley joined members of the Human Milk Foundation team to help plant the snowdrop bulbs. The Human Milk Foundation began a three-year charity partnership with Epson UK last year, working together on a number of projects.
To mark this event, Epson will also be helping the charity to print thank you cards featuring a design donated by illustrator Emily Culpeper (@culpepercreates) which will be sent to every bereaved milk donor on behalf of the families they have helped.
Daniel Quelch, sustainability manager at Epson UK, said: "We are humbled to be a part of an initiative that honours such a powerful gesture of selflessness.
"Engagement within the community has been a cornerstone of EPSON's partnership with the Human Milk Foundation and we hope this leg of our journey together will raise further awareness of the critical role they are playing for families across the country."
The snowdrop bulb display, situated outside the Daniel Hall Building is the first in a series of beautiful local sites designed to raise awareness of the importance of milk banking and the life-saving gift of donor milk.