Hemel team helps raise thousands during Tour de Rennie Grove to support the charity's work
Rennie Grove Hospice Care provides care and support for patients diagnosed with life-limiting illness and their families
Monday, 28th June 2021, 5:37 pm
A team from Hemel Hempstead has helped Rennie Grove Hospice Care raise thousands during the charity's first ever Tour de Rennie Grove.
As the event draws to a close, Rennie Grove Hospice Care is delighted that its new event looks set to have raised more than £24,000 for local families affected by life-limiting illness.
Emily Elvin, senior challenge and events fundraiser, said: "We know we have plenty of keen cyclists in our catchment – and we know that they are all very generous supporters.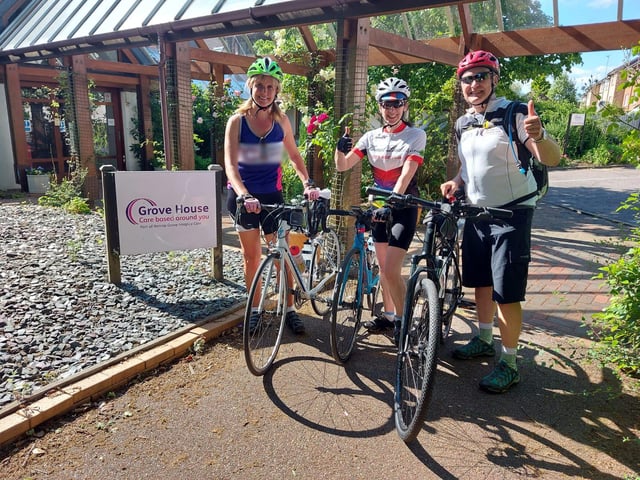 Nicole, Helen and Kevin stop at Grove House on the Tour de Rennie Grove
"However, it's still blown us away that the cyclists have raised so much in sponsorship; we're incredibly grateful to all of them.
"We would also like to thank our headline sponsor, Origin, and our corporate sponsor, KDW Financial Planning.
"With their support more of the funds raised by our cyclists can go directly towards our work caring for local families."
With the risk of holding a mass participation event with ever-changing restrictions, and cycling events being resource heavy to manage, Rennie Grove decided to try a new approach to its sponsored cycle event this year.
Emily said: "We created three 50-mile routes, each leg covering an area in which our nurses provide care. People could sign up to one leg or the entire tour and would have access to the routes through Strava.
"We encouraged people to start leg 1 on Saturday 12 June. However, with the routes being self-guided people had the flexibility to do it at any time suitable for them."
Helen Williamson from Hemel and her team took on leg 1, which took in St Albans and surrounding areas, heading out past Whipsnade Zoo and approaching Tring before looping back to the city - on the hottest Sunday of the year so far.
She said: "It was a sweltering day, but a halfway ice cream stop ensured we completed our leg… a great day's riding."
Rachel Fennell from Amersham was part of a four-strong team who took on all three legs to cycle 150 miles in total.
Rachel said: "We had a brilliant ride and the manager of the Old Hunter's Lodge Pub near Whipsnade gave us complimentary coffees when we told him we were doing the ride for Rennie Grove."
Emily added: "One element that's missing from a participant-led, flexible event like this is the sense of celebration and a fanfare finish to acknowledge people's achievements.
"So it's lovely that local businesses are recognising and celebrating with our cyclists in this way."