Hemel Hempstead woman criticises council after being hit with planning enforcement notice and potential £20k fine for replacing windows on her Grade II listed home
The council says the Planning Enforcement Team has taken a consistent approach on all neighbouring properties
Wednesday, 30th September 2020, 10:03 am
Updated
Wednesday, 30th September 2020, 10:04 am
A woman has criticised Dacorum Borough Council's conservation team after being served a planning enforcement notice after she replaced the windows on her home.
Rachel Mill bought a Grade II listed house on St John's Road, Boxmoor, after moving in in April 2019, she says she replaced the windows with safer, more energy-efficient ones.
She has now been given a planning enforcement notice stating that she has to replace the windows and door with timber - which she says will cost her an estimated £30,000 for the windows and door.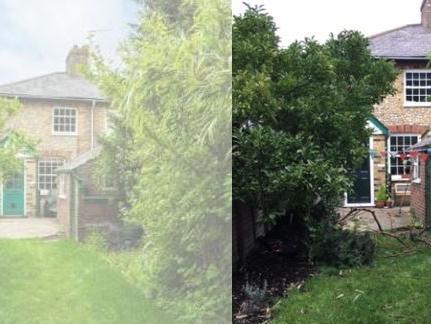 Before and after photo of the windows and door
If she fails to do that she could be hit with a mammoth £20,000 fine.
But Dacorum Borough Council insists it has been consistent in its approach to similar incidents and urges anyone intending to carry out works on their home to contact them for advice before doing so.
She said: "I live in one of the old flint cottages, one of a block of six.
"When I moved in I noticed that the majority of the neighbouring properties (council owned) had new PVC windows and doors and, as mine were literally falling apart, I got a couple of quotes to have the old timber windows - held together by tape and kitchen roll - replaced with safer, more energy-efficient ones.
"My house is Grade II listed so I also checked the details around why my property was listed and noted nothing about the timber windows or doors. The details say the windows are simply 'sash'. I checked with the neighbours and they said the council had installed the PVC windows in their properties.
"I then checked the planning permission part of the Dacorum website - nothing there from the council about installing new windows and doors in their properties, so I went ahead and had my windows and backdoor replaced.
"Fast forward to today (Friday) and I am being served a planning enforcement notice ordering me to take out all of my new windows and my back door as I have caused 'harm' to the character of the area.
"I have been told that the windows I have put in 'result in significant harm and therefore fail to protect and conserve the character, integrity and appearance' of the house. They also neither preserve nor enhance the character of the streetscene and no public benefit arises from the works to outweigh the harm caused.' When I look at the street I don't think you can even tell they are different.
Rachel's property in the middle with windows that match either side
"This could result in a £20,000 fine and me needing to have my windows replaced!
"I'm pretty staggered that the conservation team would want to pursue this case against me, especially as I'm a single mum and the cost would financially destroy me, which I did explain to one of the officers who came to visit my house.
"This was the first property I ever bought and the shine and excitement has really been taken away on account of this one department.
"On top of that, I feel like it's unjust given it was the Housing department by the very same council who put in PVC windows and doors into the properties either side of mine.
Rachel's windows and her neighbours'
"Given the economic crisis we face in light of the COVID situation, I am just so saddened, and a little shocked, that they would be so heavy handed with their approach here.
"It seems mad to me that the conservation team would want an individual to have to pay this money but, on top of that, they have also served notices to three other properties as well as mine to get their windows changed.
"Timber windows cost approximately £30,000 a house so across the 3 council-run houses this is a cost of almost £100k to the council and then the further costs to me.
"It amuses me slightly that the conservation department then wrote letters to my neighbours reprimanding them for replacing their windows, only to be met with the fact it was the housing department that had done the work. The communication between the two departments is clearly completely broken.
"It just amazes me that the council put in windows into a suite of houses and then another department serves planning enforcement notices against their own council.
"This is stressing me out, and I don't know how I'm going to afford to replace the windows with timber, but if I don't I can't afford the £20,000 fine either."
A spokesman for Dacorum Borough Council said: "The council takes the protection of listed buildings seriously as they are listed to be of importance to the nation in terms of historical or architectural interest.
"Our Planning Enforcement Team has taken a consistent approach on all neighbouring properties seeking that neighbouring properties install appropriate timber doors and sash windows.
"Our Housing Department is currently liaising with contractors about getting these works completed on the two neighbouring properties owned by Dacorum Borough Council.
"We would urge anyone seeking to make home improvements to contact the planning department for advice before carrying out works, including changing windows to a listed building - www.dacorum.gov.uk/home/planning-development/planning-applications/pre-application-advice."