Hemel church plants memorial tree to remember people who died during pandemic
The church organised a dedicated memorial service on Sunday
Monday, 28th June 2021, 1:16 pm
Updated
Monday, 28th June 2021, 1:20 pm
St George's Church in Hemel Hempstead has planted a memorial tree to remember those who have died during the coronavirus pandemic.
Church elder Roy Brown wanted to create somewhere special for people to go and remember their loved ones, he came up with the idea of a memorial cherry tree and it was planted earlier this year.
The MP for Hemel Hempstead, Sir Mike Penning was invited to a dedicated memorial service on Sunday, June 27, to mark the occasion.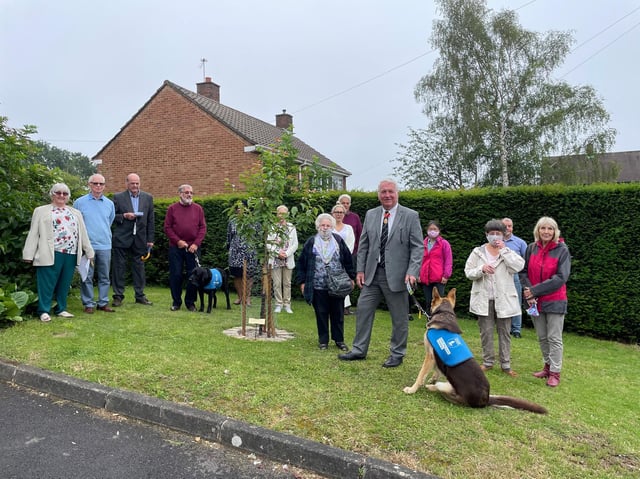 A dedicated memorial service was held on Sunday to mark the occasion
There is a poster inside the church that people add a name to and the memorial tree, with a memorial plaque, is outside and can be seen when you drive past the church.
Denise Chennells, church elder, said: "It's a flowering cherry tree planted in memory of everyone that has died during the pandemic, and not just those who died from coronavirus.
"It has been a difficult time, with people not being able to give their loves ones a proper send off, but this tree is a special place for people to visit and remember their loved ones.
"We are here today to remember those we have lost during the pandemic.
The memorial tree at St George's Church
"This is not a sad day, it is a day to remember those we have lost and celebrate their lives."
During the special service Roy spoke about why he wanted a memorial tree. He said: "I had a dream that people wanted somewhere to go to lay something, a remembrance of some sort.
"I shared the idea with our minister's wife and she said that's amazing because I had a similar dream, except mine were people in the ground and they were screaming out 'please, we want to be remembered.
"And that went very well with the idea of a tree.
"I spent a lot of time researching this and it turned out one of the best trees for this was a cherry tree and the one I wanted took a long time to get, but we managed to get it and we planted it.
"It's for anybody in the area wants to come here and lay flowers and remember their loved ones, this is the tree, bringing hope to this area."
Denise read the names of people that had been put forward for the memorial tree, followed by a poem.
Sir Mike Penning, who has been supporting Margaret Sharp with her campaign for a memorial tree in Gadebridge Park, said: "Margaret said to me that the carers of Dacorum had been so adversely affected by the loss of their loved ones during the covid crisis and they wanted to have something to remember them by, great minds think alike.
Memorial tree poster inside the church where people can add names
"There will be a memorial garden in Gadebridge Park for the whole of Dacorum's community, next to the baby memorial garden and a slightly larger tree of 23ft at the moment, which is a Copper Beech, will be planted there and there will be benches.
"A private area for people to be able to go, just like your private area here, so people can pay their respects."