Dacorum Community Kickabout wins new funding for women's football
The growth of women's football has received another boost in the form of a further grant from Barclays Community Football Fund.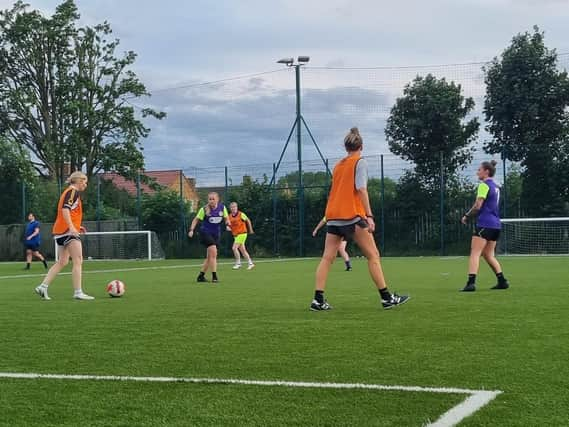 Volunteer organiser Marc Willmore says: "This second grant – after the first last year – will fund the long term booking of Hemel FC's brilliant facilities and ensure we can offer participation at a subsidised affordable fee – just £3 a week.
"It will also ensure women and girls who belong to Community Kickabout have suitable clothing, boots and equipment. And if required, we can support the purchase or female-specific kit."
"We're committed to providing weekly recreational football sessions to women and girls living in and around Dacorum and we've recently added a second game to our regular Monday session at the Focus Community Arena, Hemel Hempstead Town FC."
Marc believes women and girls are under-represented in the local grassroots football scene, in spite of football being England's fastest growing female team sport, and adds: "This grant allows us to continue to encourage people to get active with in our games in a friendly and welcoming environment.
"We're also continuing to fund and support local women and girls who are interested in FA Coach training."After running Men's Over 30 football games for two years, women-only games – with no age restrictions – were trialled last year.
There was a fantastic response and regular games have been organised ever since.
Once they've confirmed availability by booking online, women and girls can play in Hemel Hempstead's friendly small-sided games.
Marc says: "You don't need to rely on having enough players to book your own pitch or even be part of your own team - just register and play."
And he's enthusiastic in his gratitude to Barclays: "Their Community Football Fund offers grants, training and support resources to help reduce inequalities in the participation of football.
"It helps local organisations, like ours, support young people from under-represented groups to start or keep playing."