Celebrating 10 years of Door2Store making a difference in Dacorum
Community Action Dacorum introduced the community shopping service D2S in April 2013
Watch more of our videos on Shots! 
and live on Freeview channel 276
Visit Shots! now
Community Action Dacorum introduced a new community shopping service called Door2Store (D2S) in April 2013 for people living in Bovingdon and Kings Langley.
The aim of the service is to help the elderly and people with disabilities to remain independent in their own homes by supporting them to access a local supermarket and an opportunity to meet and make new friends. Running every week, alternating between the two villages the service is supported by 4 volunteers. To celebrate the success of the service we met up with the Bovingdon service and the minibus driver, Andy Miles and Passenger Assistants Fiona MacDonald and Janet Bond.
Why do you volunteer for D2S?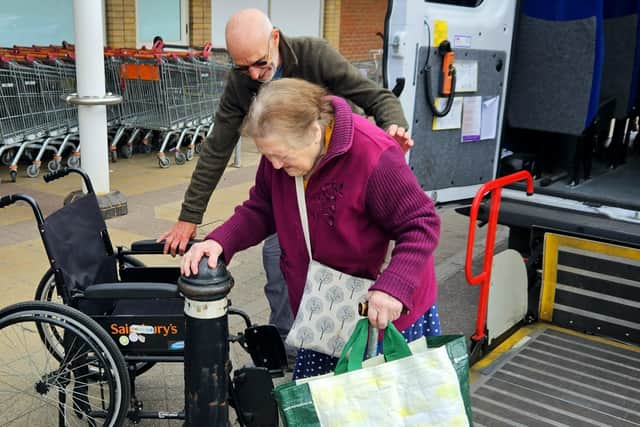 Andy - 10 years ago I saw an opportunity advertised to drive a minibus for a new community shopping service, Door2Store. I was working part time at the time and thought it would be an ideal thing to do. I've always done something and helped in the community including being a scout leader, after taking early retirement I became a carer. I enjoy helping with D2S and it is great fun. The passengers are a good bunch, and you can really tell that they enjoy it too. It's just about getting them out and about. We used to stop in the café at Sainsburys after everybody had finished shopping for a cuppa and chat but unfortunately Sainsbury's closed the café a year ago, they really miss this, but they do have a good chat on the minibus. D2S is very much about the social side, some people really don't' buy much shopping and just go for the enjoyable experience.
Fiona - I started when I retired 7 years ago. I wanted to do something and really enjoy it. My dad lived in Glasgow so even though I couldn't help him out I am able to help someone else. I've got to know the ladies and help Jean whenever she goes.
Janet - I really enjoy helping out every fortnight. I like to keep active and have always helped people out. The social aspect of D2S is very important to me and the shoppers, they are good company. I help Joyce who is 99 years old every time she comes and it's a way of her getting here and chatting with the other ladies. We take the shopping in to her home and put it away into her fridge for her. I also pop in to see Joyce on other days for a social chat and to check if she needs any support. There is a great camaraderie between the three of us, as a volunteer role it's very easy, they are nice group of ladies and very appreciative.
Have you had any memorable moments in the past 10 years?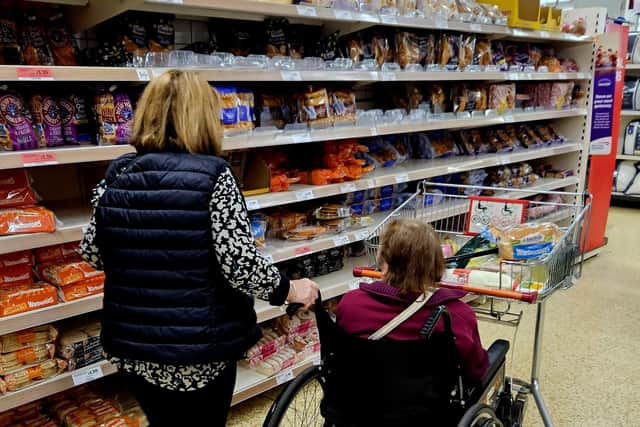 Apart from some drivers not getting out of the way of the minibus and being awkward in the drop off/pick up area the service has run very smoothly over the past 10 years. I did manage to forget and leave behind a shopper once though! One of the shoppers who was in her 90's saw us pulling away and hot footed it over to the bus stop and jumped onto a bus, as I was pulling into her road thinking she was still on the bus I saw her walking along the pavement, I couldn't believe it, she had beaten us back too! I didn't make this mistake again although I did forget Janet the volunteer. I did see her come to the minibus but she must have taken a trolley back because I didn't realise she wasn't on the minibus until we had got to the train station when one of the passengers noticed and said "where's Janet?" The volunteers still tease me about this.
It is also great that we bring Joyce every fortnight, she's hoping she'll still be able to come when she turns 100 in January 2024!
Andy, Fiona and Janet have made a difference to the lives of people living in the Bovingdon area over the past 10 years. Without their help Jean wouldn't be able to go shopping, "I can hardly walk and need to use a wheelchair when going around the store. Coming on the minibus once a fortnight is the only time I get to go out. I really missed the service when it didn't run during lockdown. Everyone is so nice and helpful on the minibus". Sheila uses D2S because there is no other way of coming down to the supermarket. "It gives me independence and I can see what I'm getting and take my time. My daughter used to bring me shopping and we would dash around the store. I only got the chance to walk around the clothing section when I started using D2S. It feels more like an outing and everyone is lovely". Sylvia was waiting for a hip replacement so using the service was really helpful. "The volunteers are fantastic they help carry your shopping bags into your house. I can drive but can't really cope with doing the shopping on my own".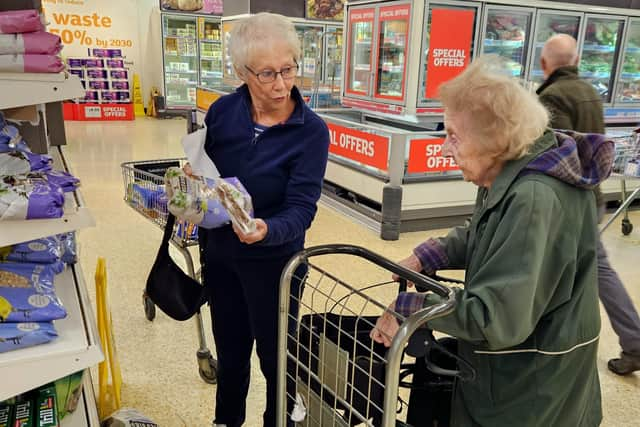 Both Fiona and Janet want to celebrate what Andy does for all the shoppers: "he is so easy going and good with the ladies. He never gets ruffled and stays calm all the time. He has helped some of the ladies out in the homes with odd jobs. If anyone needs a prescription picked up he will do that at the same time. At Easter his grandchildren made a personalised easter card for all the shoppers, he brought them on the bus so that they could hand them out to everyone. It was such a lovely thing to do and so appreciated by the ladies."