Berkhamsted mum with incurable cancer appearing at special Chelsea Flower Show launch event
Fiona is linking up with a famous television gardener for the occasion
Watch more of our videos on Shots! 
and live on Freeview channel 276
Visit Shots! now
A Berkhamsted mum is one of the special guests at the opening of a new garden for Chelsea Flower Show.
Fiona Smyth, 61, who was diagnosed with myeloma back in 2016, is attending Chris Beardshaw's latest garden opening.
Fiona has an incurable form of blood cancer which left her with a broken spine and holes in her ribs.
She is attending the event hosted by the television gardner in support of fellow cancer patients.
By the time her incurable blood cancer was caught she had fractures in the lower part of her spine and lesions, or holes, in her ribs.
The mother-of-two is now poised to attend the grand unveiling of Myeloma UK – A Life Worth Living garden at the RHS Chelsea Flower Show on Monday (22 May).
Its purpose is to raise awareness of the little-known cancer.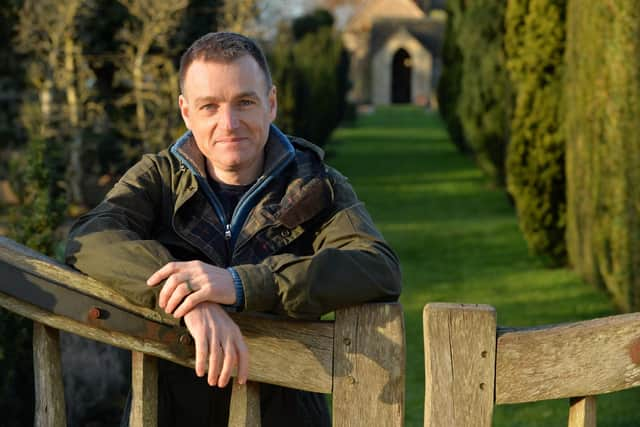 The Myeloma UK – A Life Worth Living garden was inspired by patients' stories and is intended to be a safe haven for people living with the disease; a place to pause, be in the moment and enjoy nature.
It was gifted to blood cancer charity Myeloma UK by Project Giving Back, a scheme launched during the pandemic to turn the spotlight on the invaluable work of worthy causes at the world's most famous flower show.
Fiona will be on hand at Chelsea to speak to visitors and share how her love of gardening has helped her through one of the most difficult times in her life.
She said: "Gardening is very grounding, it's very much about being out in the soil and it's about the continuity of life...it helps you just be present in the moment."
Fiona had had "terrible lower backache" for a few years but put it down to ageing; that is, until things finally came to a head in 2016.
The pain spread to her ribs, the sharp pangs keeping her up two nights in a row.
During a GP appointment about an unrelated issue, Fiona happened to mention the pain in her ribs and was sent for a blood test. Further tests revealed she had myeloma – it was incurable. She was just 54.
"It was a shock," she recalled. "It was completely out of the blue – I didn't expect them to say I had cancer. When they identified the fractures, they said I'd had it for quite a few years. I had put it down to ageing. I just thought I was in my 50s. I didn't think too much of it. There were a few warning signs, in hindsight, but I just ignored them."
"The year before, I did the Moonwalk for a breast cancer charity and at 17 miles I had to stop because I couldn't make up my mind if I wanted to pass out or throw up. I realise now that I was already ill. My energy just tanked."
Myeloma occurs in the bone marrow and currently affects over 24,000 people in the UK.