Age UK Dacorum marks a whole year of Zoom
Age UK Dacorum works to improve the quality of life for older people in Dacorum
Thursday, 17th June 2021, 1:06 pm
Updated
Thursday, 17th June 2021, 1:08 pm
Age UK Dacorum's Memory Loss Support Group is looking forward to the return of face-to-face meetings after a year on Zoom
Ruth Wright, Hertwise Locality worker and Memory Loss coordinator, has shared her experiences of a year on Zoom with her clients from Age UK Dacorum's Memory Loss Support Group.
The club, for those with memory loss and their carers, went online during the first lockdown and recently completed 52 sessions - a whole year of Zoom.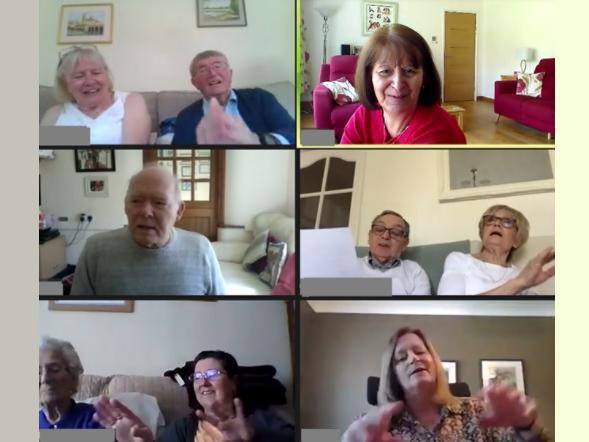 Age UK Dacorum marks a whole year of Zoom
Ruth said: "It has been challenging, especially in the early days with helping clients connect to Zoom, getting their sound and cameras on, only for dogs to bark, phones to ring and the Sainsbury or Amazon delivery person to arrive! But we persevered!
"Along the way, we've had a lot of fun and the clients are very supportive of each other.
"We have done quizzes, singing, played bingo, and enjoyed chair-based exercise routines. A few times, clients even got up and danced together – it was lovely to watch.
"There was a game we played every week, each week we had a letter and clients brought two items beginning with that letter to show – from an apple for A to a zebra for Z.
There was lots of activities that clients were able to join in with
"Some were very creative and our prize for creativity must go to Rose and Carolyn. Carolyn spent many hours with her mum helping her with the weekly craft project.
"Now that face-to-face clubs are opening up, we are putting down our I-pads and giving Zoom up. It worked, we had fun, but we are all definitely Zoomed out.
"A cup of tea together in the same room is so much nicer."
Ruth added: "We are delighted to be in the process of re-opening our clubs. This is going to take us some time and we are putting in place measures to ensure our clients' safety."
To register your interest and be informed when a club near you is opening, please contact: [email protected] or call 01442 259049.