Here's why you might have seen environmental protesters outside Barclays in Hemel
Extinction Rebellion Dacorum get oily outside Barclays
Tuesday, 22nd June 2021, 2:59 pm
Updated
Tuesday, 22nd June 2021, 3:00 pm
Six activists from Extinction Rebellion Dacorum visited Barclays Bank in Hemel Hempstead this morning (June 23) to highlight the role of the bank in 'funding the climate crisis'.
Two kneeling Rebels were doused in fake oil outside the bank, in Bank Court, while another addressed a small crowd that gathered to watch and listen.
A spokesperson for the group said: "In 2020 alone Barclays financed fossil fuel companies to the tune of £37 billion.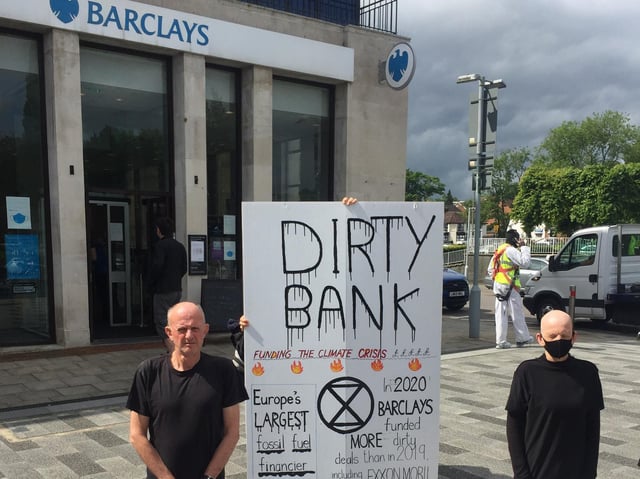 Martin and Sue outside Barclays in Hemel
"It is on record as the dirtiest bank in Europe. We hope such actions to inform the public will make sure that no one is fooled by the greenwash, and that many will switch their accounts."
Before beginning, they handed in a letter explaining the nature and intentions of the action to bank staff.
Another spokesperson added: "This is a climate and ecological emergency and we are running out of time to avert catastrophe.
"It's vital for our survival that we abandon fossil fuels, and banks can pay a key role in funding renewables instead."
They poured fake oil over Sue
The activists left the site as they found it.
Barclays Bank were approached by Hemel Today, but did not want to make a comment.