West Hertfordshire Hospitals' Bereavement Service receives £5,000 donation from Watford Housebuilder
The loss of babies in the UK is a standalone, devastating time for parents and families.
Watch more of our videos on Shots! 
and live on Freeview channel 276
Visit Shots! now
Due to this, it is important that parents have a comforting place to grieve and be supported by specialist midwives.
As such, Barratt North Thames, who have their Head Office in Watford, has recently donated £5,000 towards West Hertfordshire Teaching Hospitals' maternity bereavement service to help ease costs of the day-to-day running of the service.
The maternity bereavement service caters for many different families who have lost their babies and are looking for guidance and help to support them through this difficult time.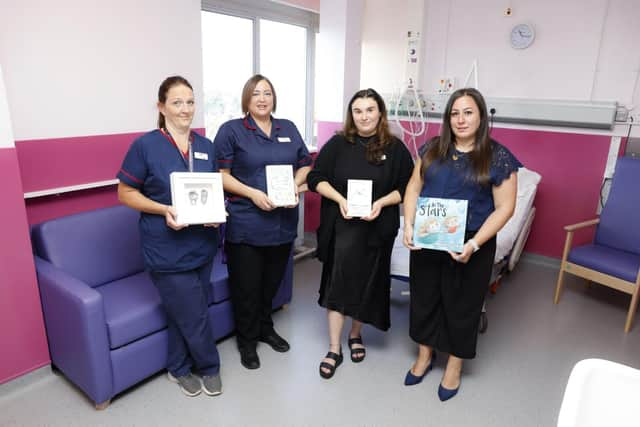 The service located at Watford General Hospital, has been running for eight years and works tirelessly to support families, whatever the situation.
Barratt North Thames' donation will been used towards the renovation of the bereavement room on the delivery suite called the Rose Room, where parents can spend time with their babies following their birth, books to help families cope with the loss of their baby and beautiful 3D casts of their baby's hands and feet.
Sasha Dunn, Technical Coordinator at Barratt North Thames commented: "'When asked for donation suggestions by the Barratt Homes Community Fund team I didn't hesitate in putting the West Hertfordshire Bereavement Services forward after speaking to my neighbour who is a midwife at Watford General Hospital.
"I know first-hand the benefit of having the much-needed support for not just the mother but the whole family, having experience of multiple losses myself.
"The bereavement suite at the centre gives families privacy that is much needed, along with fully trained specialist staff who are truly remarkable and are a key part in the start of grieving process.
"Having seen the plans for the refurbishment of the bereavement suite, which will enable both parents to not feel like they are in a hospital at all, I knew that our donation toward West Hertfordshire Bereavement Services had made all the difference."
Samantha Behagg, Lead Bereavement Midwife at Watford General Hospital, added: "We were very fortunate to have received a donation from Barratt Homes for our maternity bereavement services.
"The team look after women and their families going through pregnancy and baby loss and as you can imagine, we meet families whilst they are going through the worst imaginable time.
"We have used some of the donation to buy a range of books that have proved beneficial for women, and also some books for siblings which allow them to deal with loss.
"The team also use a company that provide hand and foot casts for babies which allow for a beautiful lasting memory of their little one.
"We are currently in the process of fundraising for the renovation of the room and so the remainder of the donation is going to be put towards that. We are so very grateful for this donation, so thank you Barratt North Thames."
Marc Woolfe, Director of Sales at Barratt North Thames, concludes: "It is of the utmost importance that NHS hospitals like West Hertfordshire Teaching Hospitals receive the highest level of support so they can assist families struggling with the loss of a baby.
"The maternity bereavement service at Watford General is very close to our hearts here at Barratt North Thames due to the proximity of our office and also a few of our colleagues using their services in the past.
"We hope that the money helps the families on their grieving journey and allows them to feel comfort at all times."
Current availability at Kingsbrook is a selection of two-bedroom apartments and three and four-bedroom homes. Current availability at St Rumbold's Fields is a selection of two, three and four-bedroom homes. Prices start from £275,000 for a two-bedroom apartment.
For further details about Barratt Homes North Thames or the new homes at Kingsbrook or St Rumbold's Fields, visit www.dwh.co.uk / www.barratthomes.co.uk or call 0333 355 8500 / 0333 355 8501.