Thinking of solar panels? Saving money on electricity bills in Hertfordshire could be cheaper than you think
If you want to know what solar panels could do for your home – and your household bills – then ask those with experience.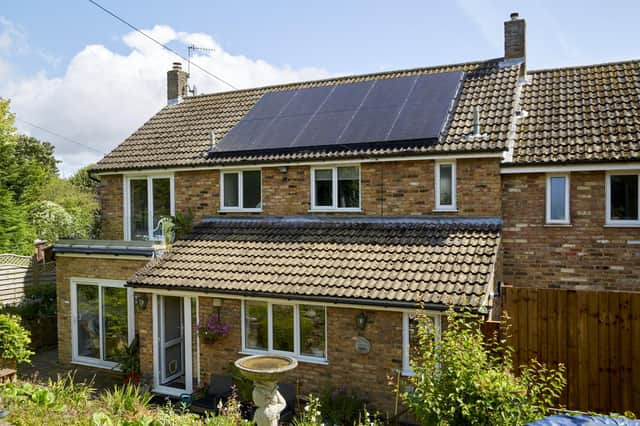 Chris Taylor, from Hemel Hempstead, had 10 solar panels and battery storage installed on his home through the Solar Together Hertfordshire scheme. We asked him to share his experience, and he said: "A good service from start to finish! Very pleased with my panels and the way the installation went. I just had my monthly direct debit for electricity reduced too!"
The scheme, which is backed by local authorities, is set to return to our area. So far, Solar Together has carried out 1,048 installations to date in Hertfordshire, fitting 9,800 panels.
Local residents have invested a total of £11.93 million on their solar panel and battery storage systems, which will save 18,249 tonnes of CO2 from the atmosphere, according to Solar Together.
The project brings together pre-vetted installers with householders and local councils. Local authorities back the scheme because of the environmental benefits of solar panels and battery storage, and residents benefit because the combined buying power of several households getting them fitted at the same time brings the costs down - it's simple economies of scale.
If you had to source a number of quotes and assess the suitability, reliability and availability of solar panel companies yourself, it would be time-consuming and would very likely work out much more expensive than joining forces with other households through Solar Together.
All the hard work is done by Solar Together – all you need to do is register your interest, give a few details about your house and wait for about six weeks to get your no-obligation quote.
Although independent installers will do the work, you will get an insurance-backed guarantee that is valid for 10 years. And you can ask about optional extras such as bird netting or fitting battery storage so that when it's dark in the evening, you can draw stored electricity from your battery in order to become more self-sufficient.
And you could get an EV charge point that links to the solar panels to power an electric car.
People in Hertfordshire who either own their home or have permission from the landlord to put in a solar PV system are being invited to give their details free and without obligation right now. Small and medium-sized enterprises (non-domestic) and Commonhold Associations meeting this requirement can take part too.
1. Register: Register your interest for free and without obligation here.
2. Auction: Solar Together hold the reverse auction with pre-vetted installers.
3. Personal recommendation: You'll get a detailed but easy-to-understand personal offer based on your initial registration details (about your home and energy needs), which is obligation free.
4. Make a decision: You choose whether you want to go ahead and proceed with the installation. The dedicated support team is on hand to answer any questions.
5. Enjoy the savings: After installation, you will start saving money by generating your own renewable electricity.
Business Manager Marie-Louise Abretti said: "With rising energy prices, homeowners are looking for opportunities to save on their bills, increase their independence from the grid and reduce carbon emissions. The previous round of Solar Together Hertfordshire has shown that solar is a first choice for many residents looking to do their bit in the fight against climate change or simply take control of their energy costs through self-generated energy."
Find out more by visiting the website here.