Hemel and Berkhamsted parents can make holidays epic with a free day of activities for children
The multiactivity camp is aimed at inspiring a generation of children
Wednesday, 30th June 2021, 2:20 pm
Parents in Hemel Hempstead and Berkhamsted are being offered a completely free day of childcare featuring an exciting line-up of activities at a holiday camp with a difference.
Epic Holiday Camps, described as 'Not your usual boring holiday camp' by TV personality Luisa Zissman, is offering a series of Free Mondays at multiple locations across the South East, including Hemel Hempstead and Berkhamsted.
The multiactivity camp is aimed at inspiring a generation of children while empowering them to find a new passion and develop new skills.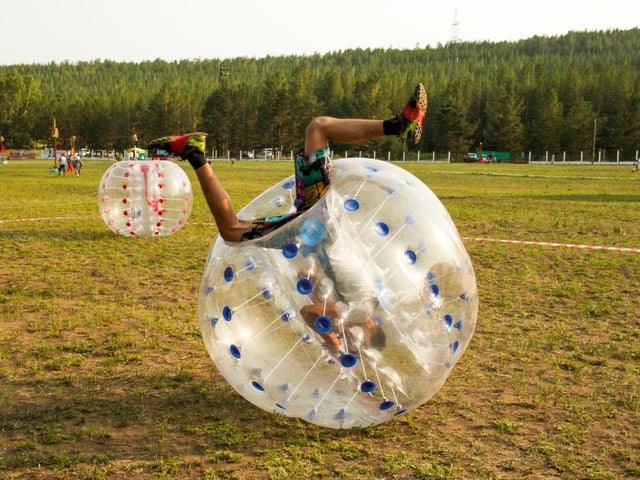 Bumperball zorbs at Epic Holiday Camps
The camps run from Monday to Friday during each school holiday throughout the year for children aged five to 11. The free days are Mondays, from July 12, to August 23, and there is no obligation to attend for the rest of the week.
Ajay Ghela, managing director of Epic Holiday Camps, said: "The free days are a fantastic opportunity for parents to get a day off while knowing their child is experiencing an amazing range of activities.
"We're focused on delivering a great experience for our camp -goers and supply cutting edge innovative tech activities that schools don't have available to them, along with arts and crafting, and sports.
"We also strive to create challenging games that will increase understanding of technology and give children an unforgettable experience that will influence their future career paths.
"From conquering new skills to forging lifelong friendships, our camps offer a truly innovative experience for your child's school break."
Epic Holiday Camps is Ofsted registered and all staff are DBS checked. If parents decide to send a child for the whole week, the fee is £175 and childcare vouchers are accepted.
Luisa's daughter Dixie has attended the camp. She said: "They're a really cool company. They teach kids all about tech, but not boring, geeky tech. Dixie absolutely loves it, and I'm a massive fan as well."
Activities provided by Epic Holiday Camps also include digital art, creating terrarium jars, droid building, bubble football, archery, circus training and even origami. All events are Covid-19 secure.