Council draws up strategy for roll-out of electric vehicle charging points across Hertfordshire amid growing demand
"This is an important strategy to support and encourage the use of electric vehicles"
Watch more of our videos on Shots! 
and live on Freeview channel 276
Visit Shots! now
Herts County Council has drawn-up a strategy for the roll-out of electric vehicle charging points in Hertfordshire, in order to meet the growing demand for electric cars.
Latest forecasts suggest that by 2030, almost one in three (30 per cent) carswill be electric – with a need for more than 3000 more charge points across the county.
The council's stated aim is to enable those who live and work in the county to recharge their vehicles 'conveniently' and 'appropriately'.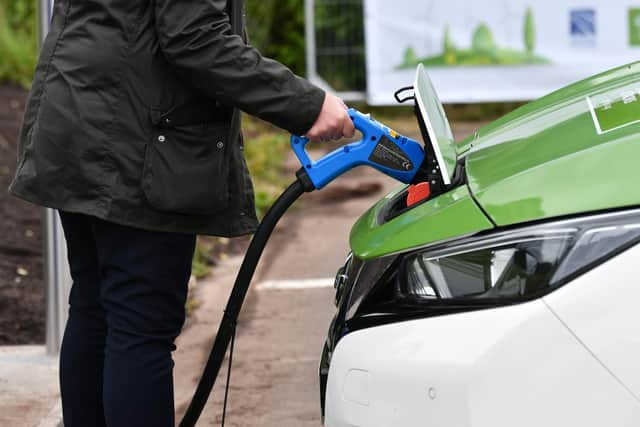 And on Monday (September 18) the cabinet agreed the final version of the council's 'Electric Vehicle Charging Infrastructure Strategy'.
That strategy highlights the potential for more charging points in car parks, whether operated by the public or private sector.
It points to a willingness to look at other off-street options on publicly owned land.
And where off-street options are unavailable – or the numbers of spaces insufficient – it says the council will support the installation of charge points on the highway network 'to fill gaps in provision'.
Presenting the strategy to the cabinet, deputy executive member for highways and transport Cllr Reena Ranger said it was 'a road map' to facilitate the transition to an electrified transportation network.
"This is an important strategy to support and encourage the use of electric vehicles, particularly as we strive for a sustainable Hertfordshire," said Cllr Ranger.
"But it has been important to strike the right balance, in order that the needs of all are catered for."
Cllr Ranger highlighted 'extensive consultation', potential risks and 'possible alternative technologies'.
And she said the county council would support charging infrastructure in 'destination' charging car parks, in rapid charging hubs and on-street.
She stressed that on street charging would be subject to certain criteria.
But she also noted a recent decision by the county council that would enable more residents to apply for dropped kerb, which – she said – would make off-street charging a viable option.
Backing the strategy, leader of the council Cllr Richard Roberts said: "I think this will evolve rapidly as we move towards 2030.
"Only last week the Prime Minister reiterated the termination of the production of petrol and diesel cares – and we have already seen that electric vehicles and hybrid vehicles are a very large percentage of cars that are sold.
"So, it is vitally important – to keep the county on the move – that we have a sufficient amount of charging available.
"The infrastructure installation is potentially challenging because of some of the width restrictions on some of our smaller roads in our towns – but that is what we are tasked with overcoming."
Cllr Roberts said he was looking forward to working with the private and public sector, borough and district councils to 'optimise those opportunities'.
He particularly highlighted 'destination charging' – pointing to car parks, at work or supermarkets or cinemas or 'wherever that might be to make it convenient for people to charge their cars with different charging rate options'.