West Herts Hospital Trust reveals the impact of strike action over the past six months
The impact of the ongoing action on patients attending the Trust's three hospitals – Hemel Hempstead, Watford and St Albans City – has been revealed
Watch more of our videos on Shots! 
and live on Freeview channel 276
Visit Shots! now
THE number of hospital patients in west Hertfordshire who have been impacted by NHS industrial action in recent months has been revealed.
Consultants, junior doctors and radiologists at the West Hertfordshire Teaching Hospitals Trust have been among those involved in national action.
And now the impact of the ongoing action on patients attending the Trust's three hospitals – Watford General, Hemel Hempstead an St Albans City – has been revealed.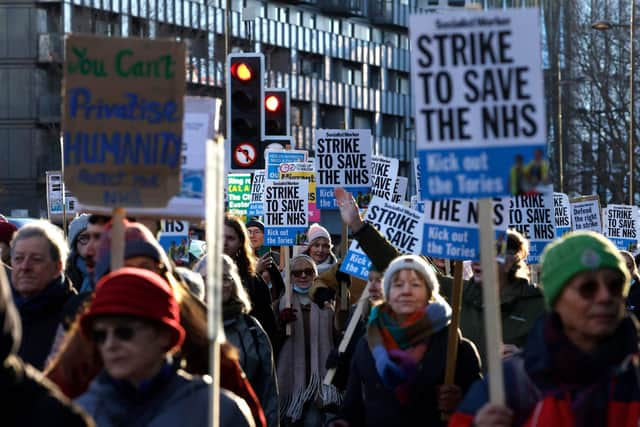 Almost 500 patients had their 'admissions' cancelled as a result of the seven periods of industrial action, between March and mid-August.
And a further 2688 out-patient appointments have had to be cancelled too.
The extent of the disruption is catalogued as part of a wider report due to be presented to Trust board on Thursday (October 5).
The data presented to the board takes account of seven periods of strike action, from March 13 to August 15.
During the action, there were – according to the data – a total of 3174 'admissions' that had been booked. And the majority of these – 2679 – went ahead as planned.
However there were 495 that were cancelled and had to be rebooked, of which 376 were within the 'surgery' division of the Trust.
Meanwhile the data shows that 31,817 of the 34,505 appointments scheduled for the seven periods of strike action went ahead.
But it reports that appointments were cancelled – and rebooked – for 2688 patients.
The data does not include action taken after August 15 or before March 13.
Further reports drawn-up for the meeting also highlight the financial impact of the industrial action.
In the first five months of the 2023/24 financial year, it is reported that lost income and extra costs as a result of the action amounted to £1.2m.
The periods of action detailed in the 'impact data' include the junior doctors industrial action on March 13-16; April 11-15; June 14-17; July 13-18; August 11-15; the consultants action on July 20-21 and the radiographers July 25-27.
Referencing the industrial action in his own report to the board, chief executive Matthew Coats said: "I would like to thank all of our staff for their continued hard work, particularly during the periods of further industrial action that we have faced.
"The commitment that our staff show during these challenging times must not be underestimated.
"Our staff are showing incredible team-working by filling extra shifts and are taking on additional responsibilities to ensure that we can provide a safe service to those in crisis and most in need.
"We recognise our colleagues' right to participate in industrial action and encourage all of our staff to work together and treat each other with kindness and professionalism."
And commenting on the impact of the industrial action in advance of the meeting, WHTHT director of operational performance Jane Shentall said: "We aim to keep cancellations to the absolute minimum and are very sorry when any patient experiences delay to their treatment.
"When rescheduling, urgent and cancer care appointments always take priority and we book these in as soon as we can to minimise delay to treatment."