Hemel schoolchildren learn the science behind sight and hearing tests
SCIENCE studies took on a more practical experience when local school children and their teachers visited Specsavers Hemel Hempstead on Tuesday 6 June to learn more about eye care and hearing.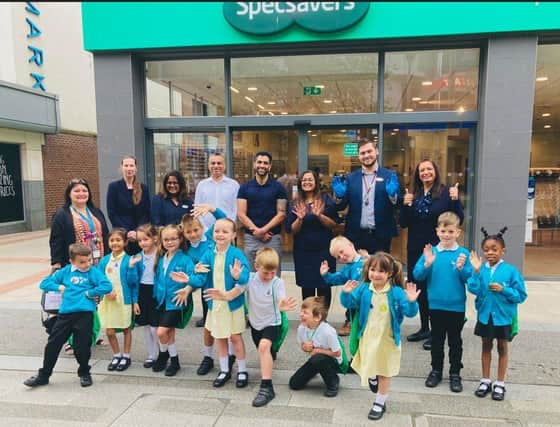 The pupils in Year 1 from Jupiter Primary School, part of the Danes Educational Trust in Hemel, were invited in to meet the team by optometrist store directors, Ash Patel, Shane Abbas Bhimani & Shyam Suchak. The visit provided a great opportunity to learn first-hand from the experts, all about the importance of eye care and hearing, and the science behind it.
During the store visit, Amy Patel, senior optometrist gave a talk about how the children could look after their eyesight. They were then given a demonstration of the eye testing equipment, with Amy explaining what each test is looking out for. After the talk, the children had fun completing an eye related puzzle sheet.
An interactive session followed, with Abdullah Zia, assistant manager and laboratory manager showing the children the various different thickness of lenses and the different types of reaction lenses, explaining why some people might need this type of lens to help improve their eyesight. The children then had a lot of fun trying on different frames and deciding which style they liked the most!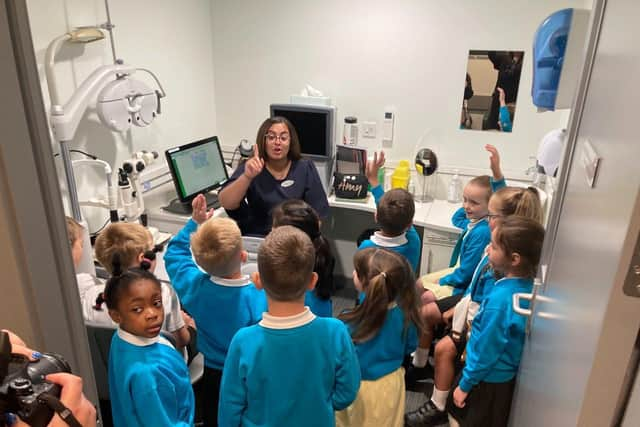 Within the hearing centre, audiology director Geeta Patel and audiology assistant Harry Hutchings taught the children some basic British Sign Language phrases, including how to sign, 'thank you'.
At the end of their visit, each of the Year 1 pupils received a Specsavers goody bag which included a high viz jacket for use on school trips and on those darker winter evenings. The store partners presented teacher Ms Ria Perry with a donation towards a forthcoming school trip to see the sights of London.
Ms Perry commented: 'The children of Year 1 would like to thank Specsavers Hemel Hempstead for the opportunities they have provided. It is important for us to make links with the community around our school. And today the store team have been so welcoming. The children came away with such an interest in both eye and hearing care, that they have been sharing their new found knowledge with friends and family.'
'Good levels of vision are so important for the children to learn about. Many families are unaware of the free sight tests for children, and the glasses available to them. We're so grateful for the donation Specsavers have made to our school trip. It will enable every family to have a discount towards the trip, which is much appreciated. The children are so looking forward to visiting London, and for many of them, it will be their first time.'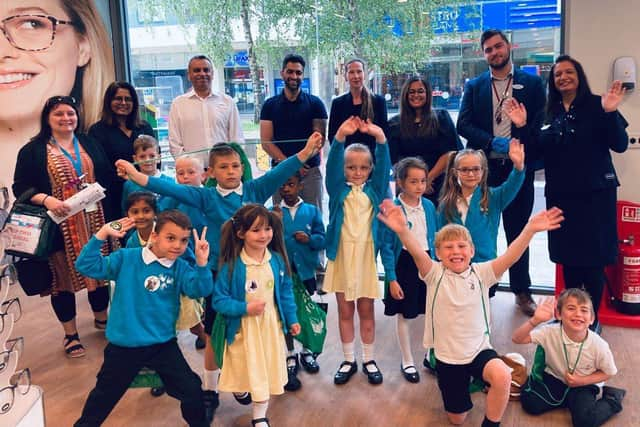 Priti Amrania, Specsavers community engagement lead for Hemel said: 'We were delighted to host the children who were so excited. We wanted to help them learn more about looking after their eyes and ears and that having an eye test can be fun and relaxing. With the help of our donation, we are so pleased that all the pupils will be able to participate in the fabulous trip the school have planned! We wish them a great time.'
To check your eyesight and hearing are in tip top condition for any planned summer trips, you can book an appointment at Specsavers Hemel on 01442 212141.