Hemel Hempstead school presented with special award in recognition of its fundraising efforts
Special award was presented to John F Kennedy School by High Sheriff of Herts
Watch more of our videos on Shots! 
and live on Freeview channel 276
Visit Shots! now
Pupils at John F Kennedy School have proved they're the business after receiving the Dragons Apprentice Challenge Outstanding Contribution to the Community award.
The school was presented with the special award by Liz Green, The High Sheriff of Hertfordshire, at a ceremony last Wednesday.
The school has been taking part in the Dragons Apprentice Challenge – a mash up between the TV shows The Apprentice and Dragons Den, since 2014.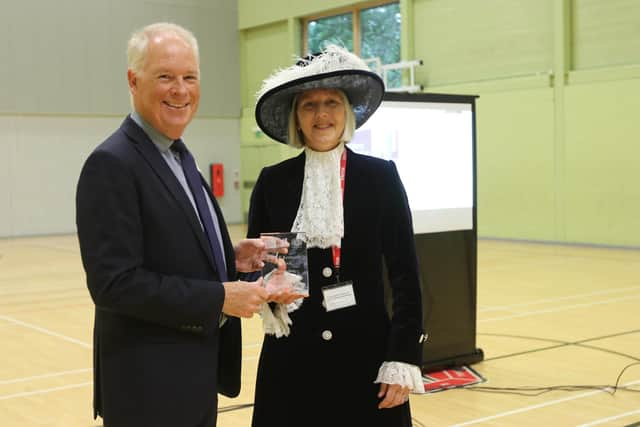 It challenges sixth form students from local secondary schools to turn their initial £100 stake and turn it into £1,000 or more over a five-month month period, with support and advice from mentors within the business community.
John F Kennedy school has entered several teams each year which is a real challenge for the school as not only are they competing with other schools, they are also competing with each other. The school has seen 187 students in 25 teams who have taken part over nine years.
The challenge not only teaches pupils business related skills but also much needed softer skills such as communication and perseverance and helps students find their strengths over the challenge.
The challenge has raised over £110,000 for local charities with John F Kennedy School raising £35,604.54.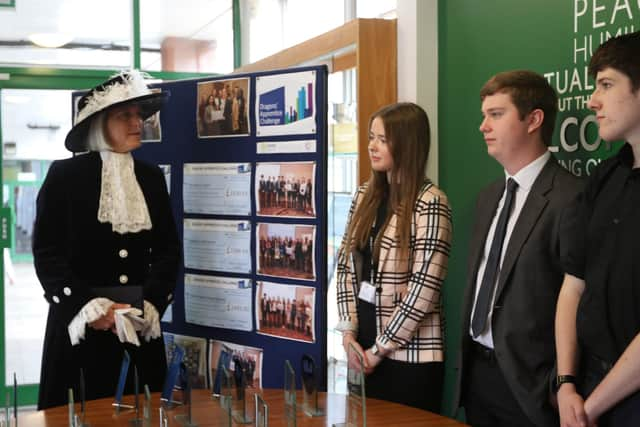 They have been matched with a variety of business mentors from companies such as Britvic, Martin Brower, Aubrey Park Hotel, Underwoods Solicitors, Metro Bank, Ten2Two, SMA HR. And have also supported a variety of charities like RNIB, Radio Dacorum, Druglink, Waterways Experiences, DENS, Age UK, Watford FC Trust, and Herts Domestic Abuse Helpline.
The High Sheriff said: "It was a pleasure to be at John F Kennedy School to present this very special award.
"The Dragons Apprentice Challenge doesn't exist now in other boroughs unfortunately, but here in Dacorum it remains a much loved and respected challenge by the schools, by the businesses and by the charities who are supported.
"We love your school's commitment to the challenge and you are the most successful school who has ever taken part in the Dragons Apprentice Challenge. In honour of this I would like to present you with this unique award for Outstanding Contribution to the Community"
Headteacher Paul Neves, who received the award, said: "Taking part in the Dragons Apprentice Challenge is an integral part of our school curriculum. "The core purpose of our school is summed up by our Mission Statement, which challenges all in our community to inspire, to achieve and to serve. Our school lives by John F Kennedy's words "Ask not what your country can do for you - ask what you can do for your country." And we look forward to taking part in the challenge for years to come.
"Over the years they have won the Overall winner twice and received a host of other awards such as Best business idea Close Co-op with charity Best presentation Best Display and Most Money."
The Dragons Apprentice Challenge starts again in September; to enter email [email protected]