Dacorum school receives 'rubbish' prize after pupil's winning poster design on composting ​​​​​​​​​​​​​​​​​​​​​​​​​​​​​​​​​​​​​​​​​​​​​​​​​​​​​​​​​​​​​​​​​​​​​​​​​​​​​​​​​​​​​​​​​​​​​​​​​​​​​​​​​​​​​​​​​​​​​​​​​​​​​​​​​​​​​​​​​​​​​​​​​​​​​​​​​​​​​​​​​​​​​​​​​​​​​​​​​​​​​​​​​​​​​​​​​​​​​​​​​​​​​​​​​​
Prize includes a signed copy of 'Darwin's Super-Pooping Worm Spectacular' book and a wormery for the school garden
Watch more of our videos on Shots! 
and live on Freeview channel 276
Visit Shots! now
A pupil of Hobbs Hill Wood Primary School has won a signed copy of the book 'Darwin's Super-Pooping Worm Spectacular' for her winning poster design on composting. The prize also included a wormery for the school garden.
The book tells the true story of how Charles Darwin discovered that the humble earthworm is the most important species on the planet.
Sophie, aged nine, was one of more than 70 entrants to design a poster to present the benefits of composting and how to compost.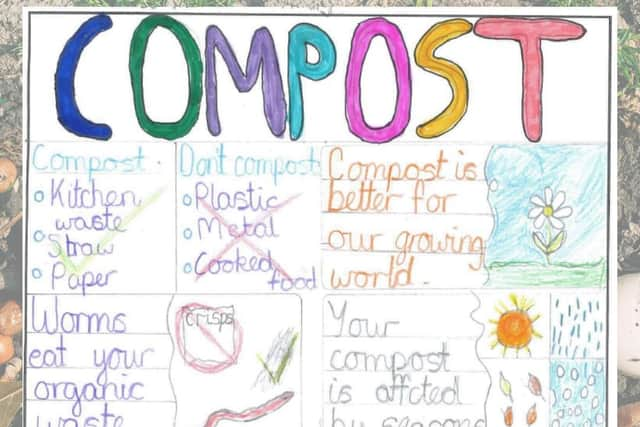 The competition, organised by Dacorum Borough Council, was open to all primary schools and attracted a high level of entries.
However, it was Sophie's artwork which caught the eye of Hemel Hempstead-based author Polly Owen, who wrote the newly-published book and was part of the judging panel.
The winning design, plus those chosen as runners-up, will be displayed on the council's social media platforms and school's recycling service web page here
Cllr Robin Bromham, the council's Portfolio Holder for Neighbourhood Operations, said: "Composting is a way of working in harmony with a natural ecosystem. This will preserve nutrients and convert waste back into clean fertiliser.
"This will help to grow flowers or the food we will be eating next year. It's wonderful that children of Dacorum have been learning about these processes and describing it in their artwork."
Hobbs Hill Wood Primary School will receive the wormery for their school garden and a signed copy of the book for their library, both kindly donated by Polly. All competition runners-up will receive a 'Worm Spectacular' badge, bookmark and sticker.
Teachers and fellow school staff are encouraged to sign up to the council's SEED (Supporting Environmental Education in Dacorum) newsletter for primary schools, which features the latest local environmental news, campaigns, classroom ideas and links to free resources here
To find out more about home composting and discounted compost bins see details here
> A wormery is a container, typically with transparent walls, in which worms are kept for study or bred to be used in making compost or as bait for fishing.