Find out how two decorators mechants in Hemel Hempstead are bucking a trend
Two online retailers are hoping to buck the industry trend and open their first bricks and mortar store.
Wednesday, 4th March 2020, 8:26 am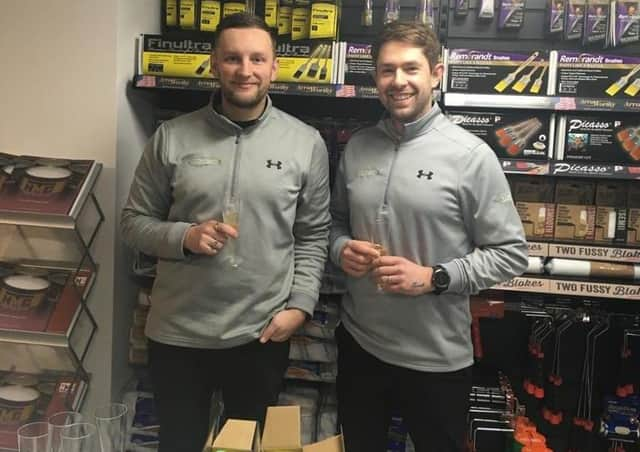 Topsdec - Brian Green and Ray Kercher.
Brian Green and Ray Kercher set up their own decorators merchants, Topdec, offering more than 1,000 products through their website, which operated from an attic for three years.
They started by selling their own range of brushes and within two weeks were approached by multiple suppliers to sell other products, and the business has gone from strength to strength.
Such was the high level of demand from across the UK, the pair decided there was scope for a proper store.
That outlet has just opened in Old Town, Hemel Hempstead.
Mr Green, the sales and marketing director, said: "At the moment the store is run by Ray and I, but we hope to employ some staff in the near future."
He added: "What we have done is normally the opposite to what most companies are trying to achieve.
"But with our solid customer base, hard work and focus we are confident this will be great."
He said: "Other independents and national merchants weren't stocking the range that we offered and this gave us the confidence to open a bricks and mortar shop in our home town."
The two have been best friends since they were nine years old and have grown up in Hemel Hempstead.
Ray, who holds an NVQ Level 3 in painting and decorating, has completed many other courses during his 14 years in the trade and has amassed huge experience in many different types of paints and products available.
Brian has worked in product management and development for the last 14 years, including roles at Associated Newspapers, Emerson and DAF Trucks.
The experience has provided him with the advertising and marketing skills to create the business's website and run campaigns via social media.
The new business has also just been nominated, for a second year running, for two industry awards - the New Merchant of the Year and Independent Merchant of the Year.