Communicating with confidence, volunteer radio presenters needed, no experience required.
For over a decade, Radio Dacorum has been the beating heart of our community, bringing diverse, engaging programming to the listeners of Dacorum.
Watch more of our videos on Shots! 
and live on Freeview channel 276
Visit Shots! now
Since our inception in 2012, we've been driven by a passionate team of volunteers who believe in the power of community-driven radio.
If you've ever dreamt of being on the airwaves, shaping conversations, and making a real impact, you're in the right place. Join us, and let's share your voice with the world.
Unlocking Skills and Enriching Lives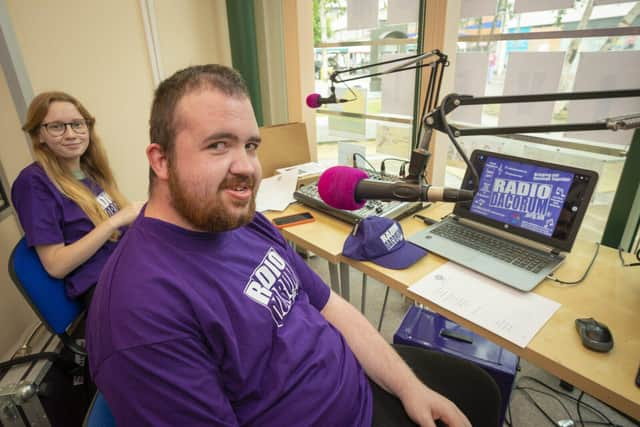 At Radio Dacorum, volunteering isn't just about giving back; it's a two-way street of growth and enrichment. As a volunteer here, you'll gain a treasure trove of skills, from content production and interviewing to mastering broadcast equipment and navigating the digital media landscape. But it's not just about professional development; it's about social growth too. One of our dedicated volunteers, Charlotte, puts it best: "Radio Dacorum has enriched my life in ways I never imagined. It's not just about the skills; it's about the connections, the friendships, and the sense of purpose."
Now that you're eager to dive in, let's talk about how you can get involved. We offer a variety of roles to suit your interests and skills. You can step up as an on-air show host, delivering your message to a captivated audience. Or you might be more technically inclined and want to work behind the scenes as a "Broadcast Assistant", ensuring our broadcasts run smoothly. We even organize remote broadcasts for those who love taking the show on the road. You could join is as an "Outside Broadcast Team member"
Don't worry if you're new to this; we provide training for all skill levels. Our community is built on sharing knowledge and nurturing talents. To learn more and embark on this exciting journey, visit our website or get in touch with us today. Remember, Radio Dacorum isn't just a radio station; it's a part of our community. Join us, and together, let's make waves and amplify our voices.
You can call us on 01442 247209 or email [email protected] or pop in to see us in the Roundhouse – the round building outside Boots in Hemel town centre. We are open Monday-Friday 10am-3pm.
If you are not based in Hemel, we also have outreach sessions in Tring on the first Friday of the month, and in Berkhamsted on the second Tuesday of the month – get in touch to find out more.