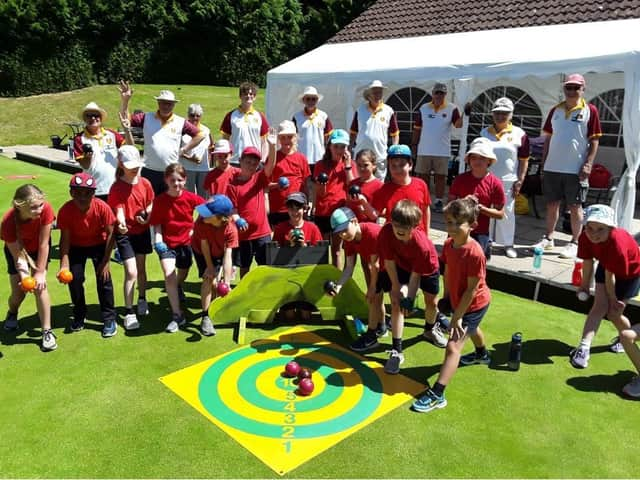 Youngsters from St Thomas More School were given a taster session in bowls by volunteers at Berkhamsted Bowls Club
Berkhamsted Bowls Club held a taster session for St Thomas More School with 46 children aged between 10 and 12 in attendance.
The club laid on more than two hours of bowling in lovely sunny conditions with the help of 16 club members coaching or supporting off the green.
This opportunity formed part of a schools' wellbeing week of activities where local sports clubs were encouraged to give children the chance to try out a new sport.
It followed on from the club's national 'Bowls Big Weekend' which offered members of the public free taster sessions.
All the youngsters were introduced to the basics of the game through mini matches and also enjoyed the challenge of bowling at targets which created fun and entertainment.
Berkhamsted are looking to re-grow their Junior section following seven very successful seasons of bringing youngsters through from the age of eight up to 18.
Berkhamsted are hoping this is the start of a new relationship with the school and a further endorsement of their progressive, friendly approach in giving local youngsters sport, entertainment and friendship.
On the green, the week started well with Berkhamsted Reds beating Garston Blues 52-17 in the Vets League.
The success continued with the team of Tony Smart, Paul Sims, Bob Anderson and David Brown beating a team from Bishop's Stortford in the County Fours competition.
The Ladies followed this with a win as the line-up of Sarah Marshall, Linda Ralphs, Liz Temple and Lesley Brown beat a team from Tring 13-10 in the third round of the Woman's County Fours.
Following that, the men also had success at Tring in the second round of the Griffin Cup by winning 40-30 with a top team of Bob Anderson. Brian Ralphs. David Brown and Kevin Clarke.
The week finished with a visit from Harperbury for a friendly Triples match which was very closely fought with the final score being 55-52 in Berkhamsted's favour, aided by a top rink of Eric Lloyd, Anne Cutting and Alan Baker.