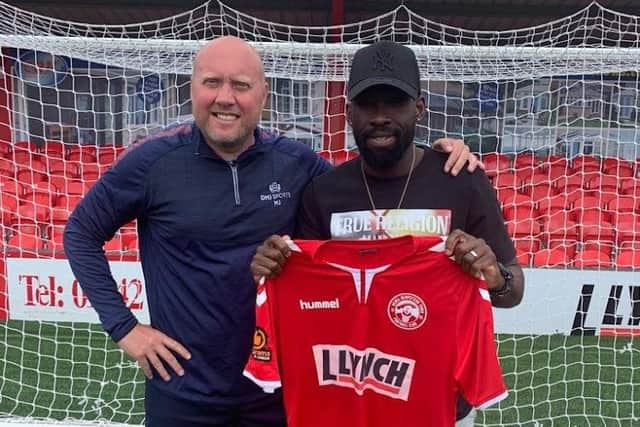 Mark Jones with one of his new signings, Godfrey Poku.
Mark Jones' men rounded off their pre-season fixtures with a 0-0 draw at home to Brackley Town last weekend and will be looking to improve on their 15th place finish achieved last season.
And boss Mark Jones told the club's official YouTube channel he's keen to build on the positives of that campaign.
He said: "There were lots of positives in our performnaces last year and unfortunately we didn't finish the season in the way I would have liked.
"The last five or six games were disappointing in terms of our points return but I don't think we were quite ready for those play-offs really.
"When you look at where we started from the aim when I came in was very much to stablise things and I obviously had to bring some players in and we changed things around.
"But there were lots of positives – our home form started to improve later on in the season but the away form nose-dived so we were a little bit inconsistent."
Jones has brought in several new signings over the summer, the most recent being striker Ogo Obi and midfielder Alfie Williams who has returned on loan from Stevenage.
And he's keen to see the new additions help change fortunes as Farnborough come to Hertfordshire.
He said: "Farnborough are one of the new teams to come up and they'll be wanting to fight and get those three points. It's good to be at home first game of the season but they're a good side with some capable players and have some good experienced players, and coming off the back of a promotion they'll be confident so we're expecting a tough game.
"I felt that to try and improve us moving forward, which is obviously the aim of any football team, we needed to change the dynamic of the squad a little bit.
"Bringing in better is always the challenge and it's been a bit frustrating at times given some financial demands, coupled with some players we'd have liked to keep opting to move on.
"We got some in early and had to be more patient with others and I've tried to sign players that have experience at the top end of this league or at higher levels.
"Mixed in with that are young lads who are hungry and want to prove themselves so the balance of the squad is OK.
"Pre-season has been a mixed bag but I think people will be looking at us this year and looking for us to get a good start to get in that top half of the table, but it's not easy and nobody's going to give you anything."