New data reveals Hemel Hempstead is expected to be one of the first cashless towns in the UK
Paymentsense analysed data over the last six months to find out which UK towns used cash the least
Friday, 27th November 2020, 3:31 pm
Updated
Friday, 27th November 2020, 3:34 pm
A new report has revealed that 80% of all transactions are now made via contactless cards in Hemel Hempstead.
UK merchant service provider, Paymentsense placed the Hertfordshire town 17th in their ranking for places embracing contactless, the top three were Brighton in third place at 82% (but with a 12% Year on Year increase), Halifax in second with 84%, behind leader St Albans, at 86%.
Following a 60% decrease in the use of cash machines in April 2020, Paymentsense analysed their unique data over the last six months to find out which UK towns used cash the least.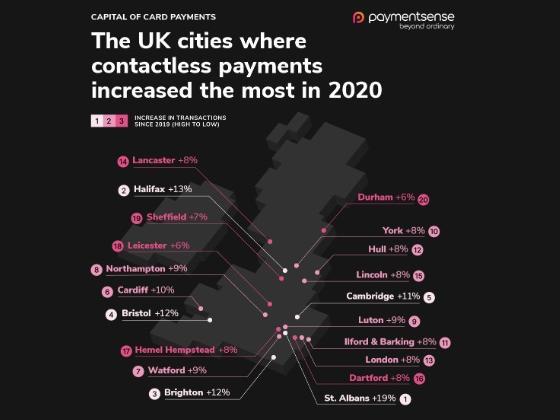 This is where contactless payments increased the most (C) Paymentsense
The data also found which cities preferred contactless and digital payments the most, and which cities had the highest year-on-year (YoY) increase in these payment methods.
The study reveals that Hemel Hempstead is one of the UK's Card Payment Capitals for an exponential increase in the use of contactless, 80% of payments in Hemel Hempstead were made by contactless cards since the Covid-19 pandemic began, with a significant YoY increase of 8%.
Jon Knott, head of customer insight at Paymentsense said: "Coronavirus has undoubtedly forced change in our lives and shopping habits.
"As more businesses refuse cash as a precaution against Covid, it makes perfect sense that the use of contactless cards are on the up this year, more than ever.
"Our findings confirm that major cities are transitioning to a cashless society at a rapid pace.
"However, as we've seen with St. Albans it isn't just the UK's big cities going cash free; smaller towns are increasingly choosing contactless methods.
"With the pandemic ongoing, it seems that a cashless Britain may be here sooner than we thought."
For more information about the campaign, click here.