Here's how you can meet Superheroes and Villains in Hemel Hempstead
The event will be raising money for Great Ormond Street Hospital and Gaddesden Place RDA
Tuesday, 22nd June 2021, 1:20 pm
Updated
Tuesday, 22nd June 2021, 1:22 pm
Superheroes and Villains will be heading to Hemel Hempstead next month to help raise money for charity.
Families can meet some of their favourite TV and film characters - and see the famous cars they drive - at Riverside Shopping Centre on Saturday, July 10, from 11am till 4pm.
There will also be a tombola with lots of prizes up for grabs, the event is part of One Great Day - an opportunity to raise money for charity and have a great day doing it. The aim of the day is for communities and families to come together with their local shopping centre and have a fun day while raising money for Great Ormond Street Hospital (GOSH) and a local children's charity.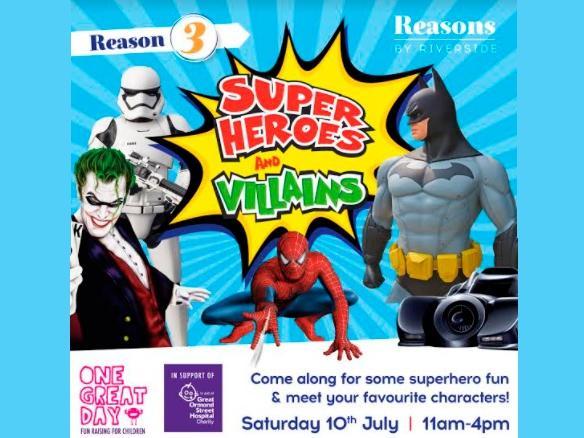 Superheroes and Villains set to land in Hemel Hempstead next month
The money raised at Riverside Shopping Centre when Superheroes and Villains visit will be donated to GOSH and Gaddesden Place RDA in Hemel Hempstead. Gaddesden Place is a dedicated Riding for the Disabled Association centre giving children and adults with special needs and disabilities the opportunity to ride and have fun
On the day, little ones can get ready to marvel at their own heroes with famous faces including, Batman, The Joker, Deadpool, Captain America and many more.
Cars include BVS Batmobile, 66 Batmobile, Ghostbusters car alongside the tow mater car from the film 'Cars' and its sequels.
Little ones are also encouraged to dress up as their favourite superhero or villain for the chance to meet their own heroes.
Riverside Centre Manager, Ian Welland said: "After nearly two years since our last Heroes and Villains event, we're thrilled to announce the famous stars and their cars will be swopping back into Riverside this July!
"We can't wait to welcome back both new and familiar faces for this guaranteed fun free family day out!
"Visitors can expect to be amazed by their favourite on-screen characters and the famous cars alongside taking part in our range of activities to help raise funds for Great Ormand Street Hospital Children's Charity and local Hemel charity Gaddesden Place RDA."