Hemel family looks to piece together six-month baby budgie's 'journey of survival'
Cloud has been reunited with the family and his friend Bertie
Friday, 18th June 2021, 5:14 pm
A family from Hemel Hempstead are appealing for help to piece together their budgie's 'journey of survival' after he flew away on Tuesday afternoon - he has since been found.
Diane Canning, of Thriftfield, wanted to share her positive story after being reunited with six-month baby budgie Cloud, after 33 hours.
At around 12.30pm on Tuesday, June 15, Penny, Diane's daughter, noticed that Cloud - who was enjoying the sunshine in his cage in the garden with his friend Bertie - had escaped from his cage and was tapping on the window.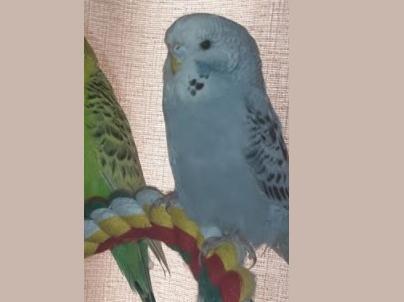 Cloud before he flew away
Diane wants to know if anyone saw Cloud while he was missing between 12.30pm on Tuesday, June 15, and 8pm on Wednesday.
She said: "Penny tried to grab him but, devastatingly he flew away, right out of sight towards the woods.
"She was so upset, she called me and when I got home she was in tears and the hunt for our baby budgie began.
"We spent hours searching for him and by foot and by car, and I want to thank the lady at Randall's Park who helped me to share it on social media.
The route created by the family of where they believe Cloud may have travelled
"We had so much support, lots of people said they would keep an eye out for him.
"On Wednesday lunchtime, he managed to travel three miles to Pixies Hill school in Chaulden, and was great entertainment for the children in the playground.
"I was told that the lunchtime ladies and the caretaker tried to get him safely onto a stick and into the box, but to their disappointment, he was frightened and flew off.
"It was later that evening that I received a call from Penny, someone had contacted her on facebook and they had found Cloud.
Cloud in the couple's flat before Penny picked him up
"A young couple in Lawn Lane posted on facebook after a budgie landed on the rail and then being his friendly self flew onto her arm, the message got through to Penny and she contacted the woman.
"Penny immediately called me screaming with happiness that she believed this was our bird because he has an ID ring on him.
"Penny and my partner took the cage to the couple's house and when Cloud saw Penny he flew straight to her and then into the cage.
"He is now reunited with myself and his friend Bertie.
Cloud looking healthier on Thursday
"It's an amazing ending for us, we didn't think we would see him again, we are over the moon.
"Sadly he was in a real mess, feathers wet and exhausted, he looked dreadful, but after a quiet night he was back to himself Thursday afternoon after such a long ordeal.
"We are just so happy and grateful to the couple for posting online, and now we are trying to fill in the gaps of his journey of survival, he is our miracle Cloud.
"We want to know where he went, while he was away, did you spot him between Tuesday lunchtime and 8pm Wednesday evening?
"There must be more to his journey."
> If you can help piece together Cloud's 'journey of survival' email [email protected]
Cloud when he returned home