Dacorum Covid-19 Memorial Garden campaign receives huge copper beech tree for centrepiece
The campaign to commemorate those lost in the pandemic has also received a funding boost
Tuesday, 15th June 2021, 2:57 pm
The Dacorum Covid-19 Memorial Garden campaign has received a tremendous boost in the past two weeks including a magnificent copper beech tree as a centrepiece for the garden.
The campaign for a memorial tree in Gadebridge Park, for loved-ones lost in the Covid-19 pandemic was set up by Margaret Sharp from Hemel Hempstead.
She wanted to create a special place for people to visit and she is hoping to plant the tree later this year.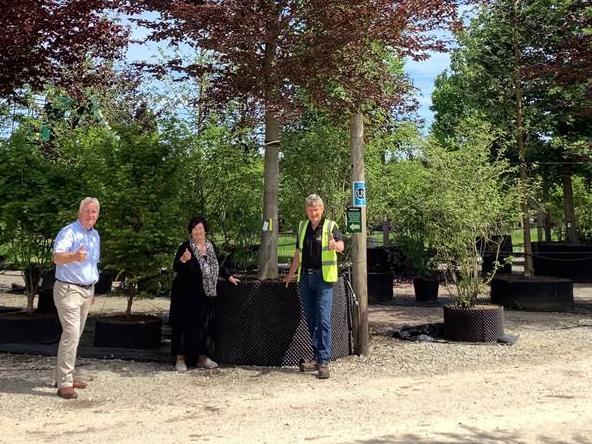 Sir Mike Penning MP, Margaret Sharp and Steve McCurdy
On Thursday, May 27, Sir Mike Penning, MP for Hemel Hempstead, was presented with a cheque for the Memorial Garden Fund for £4,100 by Dr Allen Hanouka, CEO Gama Healthcare.
Gama Healthcare specialises in infection prevention products and has recently moved to new headquarters in Maylands Avenue.
Dr Hanouka said: "We at Gama Healthcare are delighted to support this local campaign. We have been working hard throughout this pandemic to do our bit to help fight the spread of covid-19.
"This is a great opportunity for us to show our support for local people who have lost friends and family members."
Dr Alan Haouka and Sir Mike Penning MP
This donation, along with a recent donation from the Nisa Local in Crabtree Lane and other donations has given the project huge momentum.
Kishor Patel owner of Nisa Local in Crabtree Lane said: "We have supported many local community projects since 2008 and this is a very worthwhile cause.
"We are happy to contribute. So many people have been affected by this terrible pandemic and a Memorial Garden will be a great way to remember family and friends."
Later, in the week, Sir Mike accompanied Margaret, who is a carers ambassador for Carers In Hertfordshire, to visit Majestic Trees in Flamstead.
Nisa Local Crabtree Lane Store Manager Haresh Thesia, Jasmyn Saunders, Margaret Sharp, Kishor Patel, Pat Patel, Sir Mike Penning MP
They met with owner Steve McCurdy who has offered the campaign a 9m-high copper beech tree for the centrepiece of the garden at cost price.
Sir Mike said: "I am over the moon with these two generous offers which means that the campaign is now well on its way to reaching its objective.
"Dacorum Borough Council has offered a designated area in Gadebridge Park and we hope to plant the tree at a suitable time in the Autumn."
Margaret wanted to create a safe place in Hemel Hempstead for families to have a moment of reflection and remember the loved ones they had lost during the pandemic.
She said: "Sadly, I know many people who have lost friends and family as a result of this terrible pandemic. It is devastating that so many families were unable to say a proper goodbye to their loved ones because of the lockdown restrictions.
"This beautiful copper beech tree will be a lovely focal point for people seeking a quiet spot for a moment of reflection to remember those they lost.
"I want to say a big thank you to Steve at Majestic because without his kindness to give us the tree for cost price we would not have got this campaign to where it is now. It has meant a lot to me because it is a tree that will shine light for many people.
"I hope to go on the day the move the tree from Majestic to Gadebridge, it will probably take two days.
"We are planning on having a special service and we will ask the vicar from Boxmoor to speak at the service.
"I am ecstatic at how quickly this campaign has moved and the support we have received. I want to say a big thank you to all businesses who have supported us, especially the health one.
"They have been on supporting people throughout the pandemic and for them to support this campaign is great.
"Without all the support my idea would not have come to life so quickly."
Cllr Andrew Williams, leader of Dacorum Borough Council, said: "I am proud the council is supporting the Covid-19 memorial garden campaign by providing space within Gadebridge Park where the community can come to remember those we have lost through the pandemic.
"The park is already home to the SANDS memorial garden and the new copper beech will provide another focal point within the park where people can come to find comfort and peace."
If you would like to make a donation to the Dacorum Covid-19 Memorial Garden campaign, email [email protected] for more details.