Berkhamsted man breaks world record circumnavigating the globe
The 23-year-old broke the world record by one day!
Tuesday, 22nd June 2021, 10:21 am
Updated
Tuesday, 22nd June 2021, 10:22 am
A 23-year-old man from Berkhamsted returned home on Thursday, June 3, 693 days after leaving to circumnavigate the world on two wheels - breaking the world record by one day.
Jack Groves had just turned 22 when he set off on his own on July 11, 2019 on his £3,000 royal Enfield Himalayan motorbike and in normal times, he would have been back within a year - smashing the record easily.
But, when the pandemic struck, Jack was stuck in Peru for nine and a half months due to the country's army controlled lockdown and he contracted Covid twice.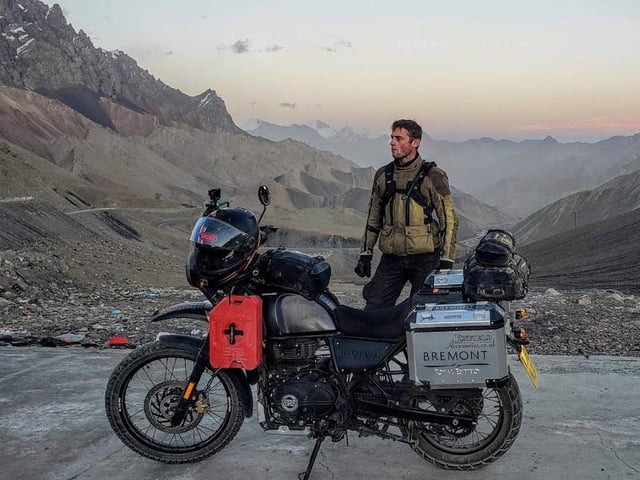 Jack standing atop a freezing mountain pass at dusk, in the far south of Xinjiang Province and within sight of K2 (C) Simon Double
Travelling eastwards, he went through Europe, Asia, Australia and South America, visiting 30 countries en-route, negotiating some of the most unforgiving terrain on the planet on his 35,000 mile journey.
"The bike has been through every conceivable geography, weather, in snow storms and blizzards and deserts, heatwaves and fires, jungles and rivers. It's seen absolutely everything," said Jack, who mentioned Turkmenistan and Uzbekistan as demanding.
He described them as 'just long days in the desert. Five hundred kilometres and just sand, dunes and sand and nothing for hundreds of kilometres.'
Unlike previous record breakers, he set off with no sponsorship or funding, just the basics, including two metal panniers, a tent, basic camping equipment and food, two jerry cans for fuel and water and a few tools, oil and a repair kit.
Jack surveying Kazarman Pass in Krygyzstan (C) Simon Double
Jack spent just two months planning the trip, though his mobile phone - which he charged from his bike was invaluable for navigation and looking for places to stay.
He spent about a third of his nights under canvas, the remainder in hostels and B&B's.
The only part of his trip with a guide was in China as he wanted the freedom of being on his own. He found China tough, describing the all-seeing eye of the Chinese Communist Party as mentally exhausting.
He said: "There were policemen who were watching and checking ID's, fingerprints and cameras everywhere."
Jack at Machu Pichu (C) Simon Double
Jack fell in love with many countries and peoples including the Balkans and Slovenia.
He said: "I thought that was a beautiful country, the people were extremely friendly. Croatia and Montenegro. Aspiring, interesting people there, people who'd lived a lot of hardship.
"It's just very interesting, vibrant, naturally beautiful, stunning landscapes, amazing roads and good food!"
His time in Australia, where his family went out to see him, was in record-breaking 45 degree temperatures.
Jack coming home (C) Simon Double
"It was quite a harrowing experience seeing animals charred by the side of the road, the direct ramifications of climate change," said Jack.
His time in Peru was equally challenging. Four times the British Consulate tried to persuade him to come home. Four times he refused.
Eventually, he decided to follow his head and not his heart but a Peruvian military pilot refused to fly the plane which had Covid patients, including Jack.
He said: "In the end, I'm probably very thankful to the Peruvian pilot, who stopped me getting on that plane!"
Jack survived two difficult bouts of Covid and eventually arrived back home on Thursday, June 3, to a wonderful Champagne reception from family, neighbours and friends.
Sarah Groves, his Mother, showered him with Champagne, she said: "I can't quite believe it, just yet. I'm glad he's home, safe and sound."
Jack and his mum on his return (C) Simon Double
Jack was also glad to be back and will now spend some time with the family and his dog.
As for his next challenge, he says he needs to earn some money but as a member of the Army Reserve since 2015, Jack is considering Sandhurst and is keen to become a helicopter pilot.